Advanced HOA Issues - Triple Crown, Developer Trifecta & Changes on the Horizon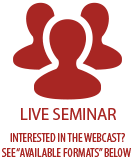 Advanced HOA Issues - Triple Crown, Developer Trifecta & Changes on the Horizon
- Case Law and Legislative Update
- CCIOA Pet Peeves: Publicly Pointing out Problem Provisions
- Insurance Issues: CCIOA and Pre-CCIOA Requirements; Controlling Statutes; Industry Standards; Declaration and Policy Provisions That Work; OCIP Requirements for Associations
- Stalled Development: Development Rights—Foreclosed, Expired, Ongoing; Unfinished Projects; Unannexed and Unannexable Property—Entitlements, Shared-Use Rights
- Developer Trifecta: Triple Crown, Vallagio and Local Construction Defect Ordinances
- Changes on the Horizon: Regulatory, Developer, and Association Perspectives on Condominium Conversions
- Trends in Document Drafting in Owner-Controlled Associations: Marijuana, Emotional Support Animals, Water/Mold Issues, Individual Assessment, and Others
Your day will begin with a comprehensive case law and legislative update on the latest in HOA issues. Then you will hear some of the areas of CCIOA that have proven difficult or open to interpretation or are simply messier than some of us might prefer. Next, find out what strategies to use in the case of a stalled development: for example, when a property is foreclosed unfinished or unannexed. Learn what you need to know about Triple Crown, Vallagio and local construction defect ordinances. And that's not all – learn the latest trends in document drafting in owner-controlled Associations: marijuana, emotional support animals, water/mold Issues, individual assessment, and more. Finally, what changes do the experts see on the horizon? Get the regulatory
, developer, and Association perspectives on condominium conversions.
Agenda:
Registration and Continental Breakfast
David J. Graf, Esq., and Suzanne M. Leff, Esq., Program Co-Chairs
Case Law and Legislative Update
Presented by Suzanne M. Leff, Esq., Program Co-Chair
CCIOA Pet Peeves: Publicly Pointing out Problem Provisions
Presented by Candyce D. Cavanagh, Esq.
Insurance Issues: CCIOA and Pre-CCIOA Requirements; Controlling Statutes; Industry Standards; Declaration and Policy Provisions That Work; OCIP Requirements for Associations
Presented by Timothy M. Moeller, Esq.
Stalled Development: Development Rights—Foreclosed, Expired, Ongoing; Unfinished Projects; Unannexed and Unannexable Property—Entitlements, Shared-Use Rights, Etc.
Presented by Lisa K. Mayers, Esq.
Developer Trifecta: Triple Crown, Vallagio and Local Construction Defect Ordinances
Presented by Jeffrey P. Kerrane, Esq.
Changes on the Horizon: Regulatory, Developer, and Association Perspectives on Condominium Conversions
Presented by Gary Kujawski, Esq., HOA Information Officer, Lisa Bondy Dunn, Esq., and Christopher W. Payne, Esq.
Trends in Document Drafting in Owner-Controlled Associations: Marijuana, Emotional Support Animals, Water/Mold Issues, Individual Assessment, and Others
Presented by David A. Firmin, Esq.
Location Information
CLECI Large Classroom
1900 Grant Street, Suite 300
Denver, CO 80203
Get directions
Registration Fees
| | |
| --- | --- |
| Non Member | $349.00 |
| CBA Member | $309.00 |
| CBA Real Estate Law Section Member | $269.00 |
| Paralegal/Legal Support Staff | $209.00 |
| CLEACCESSPASS--ELITE Pass Holder | $0.00 |
| New Lawyer Edge Partner | $154.50 |
General Credits: 7.00
Ethics Credits:
Sponsor Information
CCIOA Pet Peeves: Publicly Pointing out Problem Provisions

Developer Trifecta: Triple Crown, Vallagio and Local Construction Defect Ordinances

Changes on the Horizon: Regulatory, Developer, and Association Perspectives on Condominium Conversions