17th Annual Rocky Mountain Intellectual Property & Technology Law Institute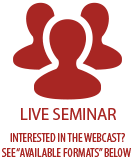 May 2019

17th Annual Rocky Mountain Intellectual Property & Technology Law Institute

Co-sponsored by the Intellectual Property Law Section of the Colorado Bar Association, Stanford Law School, Stanford Program in Law, Science and Technology, the Copyright Society of the USA, and in cooperation with the Rocky Mountain Regional Office of the U.S. Patent and Trademark Office.
Here's a Sneak Preview of a Clip from the 2019 IP Institute Script!
Feature Presentations
- USPTO Director Andrei Iancu sharing with us initiatives and his insights
- Sharing Economy IP and tech law twists with panelists who are leading actors and actresses in the sharing economy
- Ethical Dilemmas in the movies and acting lessons for you

Timeless Classics

- Updates - patent law, PTAB, trademark/TTAB, copyright, licensing, trade secrets, data privacy and security, and internet litigation

2019 PREMIERE

- IP Fundamentals (patent, trademark, trade secret, and e-commerce-privacy basics taught by "best in class" instructors from 10 am - 4:00 pm on May 29. For your convenience, this training is offered the day before the Institute at the USPTO and adjourns in time for you to attend PTO Day's celebration of the 5th Anniversary of the USPTO Regional Office

SEQUELS Coming Out in 2019

- In-House Counsel and the Profession Track
- Skills-based Experiential Track E …. Licensing
- Institute News and Tunes - LIVE - With Well-known Colorado Radio Personality
- ChIPs and Solo Small Firm Breakfasts!
PLUS - LOTS OF "Off and On the Set" NETWORKING OPPORTUNITIES!
SPECIAL THANKS TO ALL OF OUR 2019 INSTITUTE SPONSORS!
PRESENTING
Cooley LLP - Wine Tasting
Hogan Lovells - IP Book Club
Holland & Hart LLP - Day 2 Lunch
Kilpatrick Townsend & Stockton LLP - Day 1 Lunch
King & Spalding LLP - IP After-Hours and ChIPs Breakfast
Merchant & Gould P.C. - Friday Beer Tasting
Perkins Coie LLP - Wi-Fi
PLATINUM
Baker Botts - Day 2 Breakfast
Dennemeyer - Day 1, morning break
Dorsey & Whitney LLP - Day 2, morning break
Polsinelli - Charging Station
Sheridan Ross PC - Day 1 Breakfast
WilmerHale - Day 1, afternoon break-Sundae Bar
GOLD
Akerman.com
Armstrong Teasdale LLP
Arnold & Porter
BakerHostetler LLP
Banner & Witcoff, Ltd.
Black Hills IP
Brownstein Hyatt Farber Schreck, LLP
Faegre Baker Daniels
KUTAK ROCK LLP
Marks & Clerk
Michael Best & Friedrich LLP
Seed Intellectual Property Law Group LLP
Setter Roche LLP
Smart & Biggar
Synopsys
SILVER
Baker Tilly Virchow Krause, LLP
CBA-CLE Books
CBA-CLE Pass
Corsearch
Forensic Pursuit, LLC
Haynes and Boone, LLP
ipan + Delegate Group
Lee & Hayes, P.C.
Lewis Roca Rothgerber Christie LLP
PatPro, Inc.
Patterson Intellectual Property Law, P.C.
Sun IP

Sponsorship opportunities are still available! Please contact Melissa Higham, mhigham@cobar.org for more information.
4th Annual PTO DAY - Wednesday, May 29, 2019 - 4:00 - 6:00 pm
USPTO Regional Office,
1961 Stout Street, Denver
Arrive early for the Institute, and help the USPTO Denver Regional Office celebrate its 5
th
Anniversary! Also meet
USPTO officials, including Director Andrei Iancu,
PTAB Acting Vice Chief Judge Melissa Haapala, and Regional Director Molly Kocialski.
Network with colleagues and enjoy appetizers and drinks. Don't miss this unique opportunity to meet IP's movie moguls.
SPECIAL THANKS to the
Intellectual Property Law Section of the Colorado Bar Association
for sponsoring this event!
Denver Brewery Walking Tour - Check Out the "Back Stage" of Denver's Craft Brewery Scene - 5:30 - 8:00 pm, Wednesday, May 29, 2019
This has been so popular (and fun) the last two years, we have to do it again! Join us for a 2 1/2 hour custom, private, guided walking tour of popular North Denver's Sunnyside and LoHi neighborhood and its excellent microbreweries. The tour starts at Diebolt Brewing Company at 3855 Mariposa Street in Denver, where you will taste amazing craft beer and learn how unique handcrafted ales and lagers are made as you experience brew haven. Though the walk is short to each brewery, it provides a chance to learn about Denver and its craft beer scene. The tour is great for novices and experts alike. Included in the tour: Lots of great beer samples; behind the scenes tour of a brew house, visit 3 different breweries, AND build relationships with your fellow IP colleagues! Cost is $39/person.
Spots are limited, so sign up early!
2019 Rocky Mountain Intellectual Property and Technology Law Institute - May 30-31, 2019
THURSDAY, MAY 30, 2019:
TRACK A - Patents & Patent Litigation Track
TRACK B - Trademarks/Copyrights Track
TRACK C - Licensing Track
TRACK D - Transactional/E-Commerce Track
4th Annual IP AFTER-HOURS - Get Together Off the Set!
5:30 - 7:30 pm, Thursday, May 30, 2019
Are you are interested in meeting IP colleagues & networking in a small informal FUN group setting? IP After Hours with Mike & Molly is always a big hit at the Institute!
Mike Drumm
, Colorado's Beer Attorney, and
Molly Kocialski
, USPTO Regional Director, will again be hosting the 4th Annual IP After Hours. Put it on your calendar now! Meet in the lobby of the Westin Hotel for a short walk to Rock Bottom Restaurant & Brewery. Meet more of your IP colleagues in a small, informal group for cold brews and good food. Rock Bottom Brewery was started in 1991 in Denver and is one of the nation's first brewery restaurants.
TRACK A - Patents & Patent Litigation Track
TRACK B - Trademarks/Copyrights Track
TRACK D-2 - In-House Counsel Track
(Friday Only)
TRACK E - Experiential Training Track
(Friday Only):
LICENSING
Due to the "building block" nature of Track E, registrants for this track must attend all Track E Friday breakout sessions, and not move around to other Friday breakout sessions.
(Limited attendance)
REGISTER EARLY TO RESERVE YOUR SPOT
Stay for the 2019 Sequel - Bike Ride to Boulder!
9:00 am - 3:00 pm, Saturday, June 1, 2019
Not ready for the Institute to end? Join us for the final ride! Join a group of your fellow IP attorneys on Saturday, June 1st for a colorful, leisurely bicycle ride from the Westin Hotel into nearby Boulder, Colorado, where you'll ride through the famous Flatirons. SAG Wagon, snacks, beverages, AND, a group lunch in Boulder are included. This adventure will be led by CBA-CLE's own highly experienced
Assistant Executive Director Heidi Ray
. Heidi has ridden her bicycle all over Europe and will happily guide your ride. Bring your own complete gear, or rentals will be available. IP Institute guest room rate at the Westin is valid for 3 days following the Institute. Details to follow.
Location Information
Westin Westminster Hotel
10600 Westminster Blvd
Westminster, CO 80020
Get directions
Registration Fees
| | |
| --- | --- |
| Non Member - Paper Materials | $679.00 |
| CBA Member - Paper Materials | $639.00 |
| Non Member - Digital Download | $629.00 |
| CBA Member - Digital Download | $589.00 |
| CBA Intellectual Property Law Section Member - Paper Materials | $589.00 |
| Copyright Society of the USA Member - Paper Materials | $589.00 |
| ABA Intellectual Property Section Member - Paper Materials | $589.00 |
| ABA Intellectual Property Section Member - Digital Download | $539.00 |
| Copyright Society of the USA Member - Digital Download | $539.00 |
| CBA Intellectual Property Law Section Member - Digital Download | $539.00 |
| CLE BASIC Pass Holder - Paper Materials | $329.00 |
| New Lawyer Edge Member - Paper Materials | $319.50 |
| CLE ELITE Pass Holder - Paper Materials | $299.00 |
| CLE BASIC Pass Holder - Digital Download | $299.00 |
| New Lawyer Edge Member - Digital Download | $294.50 |
| CLE ELITE Pass Holder - Digital Download | $279.00 |
General Credits: 15.00
Ethics Credits: 3.00
EDI Credits:
To join the CBA or add a Section to your membership click