Post-Merger/Acquisition Data Breaches: Risks and Liabilities to Clients and Law Firms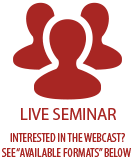 Post-Merger/Acquisition Data Breaches: Risks and Liabilities to Clients and Law Firms
Co-sponsored by the M&A Subsection of the CBA Business Law Section
Recently there have been a number of mergers and acquisitions where data breaches occurred or were discovered after the transactions were concluded. This program will discuss the issues in connection with such breaches and what is currently known with respect to the associated costs and who will bear them.
Don't Forget: The M&A Breakfast CLE Series is also available via live Internet webcast, direct to your desktop!
Save
May 10
for the next M&A CLE Program -
Acquiring or Selling a Business in The Americas
. A noon luncheon CLE program co-sponsored by both the M&A and International Transactions Subsections!
John H. Lonnquist, Esq. clerked for the Colorado Supreme Court in 1972, then joined a mid-sized Denver law firm for five years before being recruited to the legal staff of a Fortune 200 company. He relocated to Washington, D.C. to serve as the company's registered lobbyist and head of its public policy arm for ten years. After a year in New York as general counsel for a merchant banking firm, he returned to Colorado and has practiced law here uninterruptedly since 1990. He is a member of Mallon Lonnquist Morris & Watrous, PLLC
His practice includes business transactions, litigation, and mediation, and his clientele derives primarily from referrals of his clients and from other attorneys and includes software developers. His litigation practice is primarily in Colorado state courts, though he is admitted to and has appeared before the U. S. District Court in Colorado, the U. S. Bankruptcy Court, and the 10th U. S. Circuit Court of Appeals. John is a member of the CBA's Cannabis Law Committee.
Mitchell J. Tanenbaum, Owner, Information Risk Strategy Consulting,
has been involved in information systems - software development, operations, architecture, and strategy for over 30 years. Working in the financial services (Mercury Companies) and defense industries for most of that time as Chief Information Officer (Texas Industries Defense Systems), Chief Technical Officer or Chief Information Security Officer, information security and privacy has been a critical part of the services he has delivered to some of the world's largest banks and the Department of Defense.
As an independent consultant, Mitch assists organizations in creating and implementing their cyber risk mitigation strategies, starting with enterprise risk assessments. As hackers have morphed from teenagers in their parents' basements to nation-states, and from fun pranks to business-threatening breaches, CEOs and Boards now have to rise to the occasion. Mitch acts as a trusted advisor to organizations as they deal with the new realities of cyber risk.
Registration and Continental Breakfast
Post-Merger/Acquisition Data Breaches: Risks and Liabilities to Clients and Law Firms
- How Does Cyber Security Risk Impact the Purchase Price in a Transaction?
- What Can a Buyer Do To Offload This Unknown Risk to Seller?
- What Risks May Arise from a Law Firm's Own Technology Systems and Practices?
- What is Reputational Risk to a Law Firm from the Discovery — Post- Transaction — of a Data Breach?
- What Practical Suggestions/ Recommendations Exist?
Location Information
CLECI Large Classroom
1900 Grant Street, Suite 300
Denver, CO 80203
Get directions
Registration Fees
| | |
| --- | --- |
| Non Member | $79.00 |
| CBA Member | $59.00 |
| New Lawyer Edge Member | $29.50 |
| CBA M&A Subsection Member | $29.00 |
| CBA Business Law Section Member | $29.00 |
| CLE ELITE Pass Holder | $0.00 |
General Credits: 1.00
Ethics Credits: 0.00
Sponsor Information
An Attorney and a Data Security Expert Discuss Risks and Liabilities to Clients and Law Firms When Data Breaches Occur or Are Discovered Post -Merger/Acquisition

Post-Merger/Acquisition Data Breaches and Risk and Liabilities to Clients and Law Firms To Be Discussed at CLE Program

Purchase Price Impact, Risks and Allocating Risks, and Suggestions and Recommendations Regarding Post-Merger/Acquisition Data Breaches from the Perspectives of both an Attorney and a Data Security Expert to be Addressed at CLE program