5th Annual Colorado Litigators' Summit - In-Person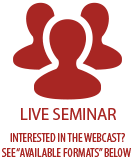 Brush up on how to be more effective in your litigation and trial practice. Leading litigators in the community, as well as the Chief Justice of the Colorado Supreme Court, will share their wisdom and expertise in this wide-reaching program. Plus, secure your two EDI credits for the current compliance period.
Home studies will be available approximately 2-3 weeks following the live program.
For your own safety, the safety of others, and in an effort to provide everyone with the most rewarding in-person meeting and event experiences possible, we request that you attend this event only if you have been fully vaccinated. All attendees must wear masks for indoor events unless attendees can maintain a distance of six feet from each other, in which case masks may be removed. Masks may also be removed by an attendee, briefly, when they are speaking, eating, or drinking.
Depending on CDC and/or state or local health guidelines, a rise in COVID-19 cases, or other circumstances that may threaten the well-being of our attendees, CBA-CLE reserves the right to convert to a fully virtual event.
If disability accommodations or special assistance are needed, please contact us at [email protected]. Requests must be made at least two weeks prior to the scheduled program.
The program will be submitted for CLE accreditation in Colorado. If you need to seek accreditation in another state, please review the process and requirements for that individual state. CBA-CLE staff can provide a Uniform Certificate of Attendance, and it is the attendee's responsibility to complete the accreditation outside of Colorado.
SPECIAL THANKS TO OUR 2022 SPONSORS!
Gold
Ireland Stapleton Pryor & Pascoe
JAMS
Lockton Affinity
MDD Forensic Accountants

Pike Reporting Company
Silver
Brownstein Hyatt Farber Schreck
DISCO
Exponent

Sponsorship opportunities are still available! For more information, contact Melissa Higham at [email protected]
(Break from 10:15 – 10:30 am)
Navigating the Complexities of DE&I in the Workplace
This presentation takes participants on a journey of "deconstructing" the real meaning of equity, inclusivity, and diversity – and how these concepts show up in the workplace. We will explore the ways in which seemingly small decisions in the office can have significant and meaningful impact within an organization, and how creating an equitable workplace can result in increasing morale, empowerment, and retention of individuals from under-represented backgrounds. The keynote is designed to inspire and energize participants to leverage their skills as both leaders and colleagues in the journey to create more equitable workplaces.
Presented by Dr. Dwinita Mosby Tyler, Founder and Chief Catalyst, The Equity Project
Submitted for 2 EDI Credits
Protecting and Enhancing the Entity's Experience in Litigation
Presented by Cash Parker, Esq., Hall & Evans, and Nicole Westbrook, Esq., Jones & Keller
Should I Handle My Own Appeal or Co-Counsel/Hire an Appellate Specialist?
Presented by Nelson Boyle, Esq., Burg Simpson Eldredge Hersh & Jardine, P.C., Keith Bradley, Esq., Squire Patton Boggs LLP, and Paige Mackey Murray, Esq., Paige Mackey Murray Law LLC
Moderated by Sharlene Aitken, Esq., Aitken Law, LLC
Remarks by Colorado Bar Association Litigation Section Chair Kayla Dreyer, Esq.
Remarks by CBA President Ryann Peyton, Esq., DBA President Ruchi Kapoor, Esq., and CBA-CLE Board President April Jones
Lunch & Q&A with Colorado Supreme Court Chief Justice Brian D. Boatright
Honorable Brian Boatright, Chief Justice, Colorado Supreme Court
Moderated by Kayla Dreyer, Esq., Brownstein Hyatt Farber Schreck, LLP
Presented by Bradley Levin, Esq., Levin | Sitcoff | Waneka PC
Presented by Tyler Mounsey, Director of Legislative Affairs, CBA
Third-Party Discovery in Arbitration:  What Authority do Arbitrators Have to Order Nonparties to Provide Discovery and to Participate in Hearings?
Presented by Jack Berryhill, Esq., Moye White LLP
A Message from DBA Metro Volunteer Lawyers
Closing Remarks and Adjourn to Networking Happy Hour
Reception at the FIRE Terrace – Art Hotel
Location Information
East Combined
1290 Broadway #1700
Denver, CO 80203
Get directions
Registration Fees
| | |
| --- | --- |
| Non Member | $519.00 |
| CBA Member | $390.00 |
| FFA Member | $389.00 |
| CBA Litigation Law Section Member | $319.00 |
| New Lawyer Edge Partner | $195.00 |
| Paralegal/Support Staff | $195.00 |
| Active Military | $195.00 |
| Public Service/Government | $195.00 |
| CLEACCESSPASS - ELITE Pass Holder | $49.00 |
| Student Currently Enrolled in Law School | $0.00 |
General Credits: 7.00
Ethics Credits: 0.00
EDI Credits: 2.00
To join the CBA or add a Section to your membership click