Federal Practice Update 2018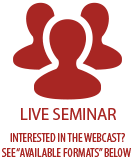 June 2018
Federal Practice Update 2018
Co-sponsored by the Federal Bar Association - Colorado Chapter and the Litigation Section of the Colorado Bar Association
-
Priceless Pointers for Successful Litigation in Federal Court by District of Colorado USDC Judges and Magistrate Judges
- Federal District Court Local Rules Update and Common (and Not so Common, but Serious) Pitfalls the Court and Clerk's Office See, eDiscovery Counsel on Recent Developments, Issues and Trends in Federal eDiscovery Law, and Telling a Story and Sticking with It
- Using Social Media and the Rules of Professional Conduct Together
U.S. District of Colorado Judges and Magistrate Judges and the District Court's Legal Officer, plus experienced federal court practitioners, will provide you with tips for achieving the best possible outcome for your clients in federal court. Join us and hear what you need to know about developments, best practices, procedures, pitfalls, invaluable insights, and rules (unwritten rules, too, perhaps!).
Attend and take on your next federal case, and enter your next federal court trial or hearing, with even more confidence. Using social media and the Rules of Professional Conduct together, federal eDiscovery law, and telling your story and sticking to it are also included in the discussion.
Don't miss this annual opportunity to make certain your federal practice skills, techniques and knowledge are current. Register Now!
Here's What Your Colleagues Have Said About These Updates:
"Very informative - as always! Thank you!"
"It's always helpful to hear directly from judges; the practical advice was particularly helpful."
"In depth and thorough update of federal practice with practical tips for practitioners."
Registration and Continental Breakfast
Extended by Danielle Kitson, Esq., Program Chair and Planner
eDiscovery Counsel Explores Recent Developments, Issues and Trends in Federal eDiscovery Law
Presented by Gretchen Marty, Esq.
Federal District Court Local Rules Update and Common (and Not So Common, But Serious) Pitfalls the Court and Clerk's Office See
Presented by Edward Butler, Esq.
ETHICS: Using Social Media and the Rules of Professional Conduct Together – Colo. RPC 1.6, 4.1, 4.3, 4.4, and 8.4(c)
- Litigation Investigation
(1) How can lawyers use social media for investigative purposes ?
(2)How do the rules of professional conduct impact lawyer interaction with non-clients through social media platforms?
(3) What kinds of conversations should lawyers be having with their clients about their client's social media presence?
- Other social media concerns
(1) What confidentiality issues are triggered by lawyer blogging?
(2) How can lawyers ethically use social media to market?
(3) What can lawyers do about negative online reviews?
Presented by Sara C. Van Deusen, Esq., Assistant Regulation Counsel
Pointers for Successful Litigation in Federal Court
District Court Judges Panel:
Honorable Wiley Daniel, Senior Judge, U.S. District Court, District of Colorado
Honorable Philip Brimmer, Judge, U.S. District Court, District of Colorado
Trial Techniques — Tell a Story and Stick with It
Presented by John Fitzpatrick, Esq.
Pointers for Successful Litigation in Federal Court
Honorable Michael Watanabe
Honorable Michael Hegarty
Honorable Gordon Gallagher
Location Information
CLECI Large Classroom
1900 Grant Street, Suite 300
Denver, CO 80203
Get directions
Registration Fees
| | |
| --- | --- |
| Non Member | $399.00 |
| CBA Member | $369.00 |
| CBA Litigation Section Member | $319.00 |
| Federal Bar Association Member | $319.00 |
| Paralegal/Legal Support Staff | $279.00 |
| New Lawyer Edge Partner | $184.50 |
| CLE ELITE Pass Holder | $0.00 |
General Credits: 7.00
Ethics Credits: 1.00
Sponsor Information
A Court's Decisions to Allow or Deny a CFI or PRE Reports When Requested
New Tax Cuts and Jobs Act and the Effects on Divorce
Ethics: Lawyers Say the Darndest Things … Teaching Moments