Federal Practice Update 2017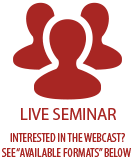 June 2017
Federal Practice Update 2017
Co-sponsored by the Federal Bar Association – Colorado Chapter, and the Litigation Section of the Colorado Bar Association
Program Description:
Gain invaluable insights from U.S. District of Colorado Judges, including the Chief Judge and Magistrate Judges, as well as seasoned practitioners at your 2017 Federal Practice Update. Get an inside look at what your District Court wants, and does not want, when you practice there. Hear about ethical considerations and emerging issues in federal e-Discovery law, and implications for your federal court practice arising out of the 2016 Defend Trade Secrets Act. Attend and be a more effective litigator.
Don't miss this annual opportunity to make certain your federal practice skills, techniques and knowledge are current. Register Now!
Here's What Your Colleagues Have Said About These Updates:
"….This was a great seminar! Thank you."
" … Good speakers. Good Materials!
"… It's always helpful to hear directly from judges; the practical advice was particularly helpful."
Registration and Continental Breakfast
Welcome and Introduction
Extended by Danielle Kitson, Esq., Program Chair and Planner
Emerging Issues in Federal e-Discovery Law
Presented by Gretchen Marty, Esq.
Networking Break
Federal District Court Local Rule Changes and Common Mistakes that Practitioners Make
Presented by Edward Butler, Esq.
Competency, Confidentiality, and Candor: Ensuring Compliance with Colo. RPC 1.1, 1.6, 3.3 and 3.4 in the Age of Electronic Discovery
Presented by Sara C. Van Deusen, Esq., Assistant Regulation Counsel
Lunch on Your Own
Pointers for Successful Litigation in Federal Court: The District Judge's Role in Your Case
District Court Judges Panel:
Honorable Marcia Krieger, Chief Judge, U.S. District Court, District of Colorado
Honorable Christine Arguello, District Court Judge, U.S. District Court, District of Colorado
The 2016 Defend Trade Secrets: Implications for Federal Court Practice
Presented by Darren Nadel, Esq.
Networking Break
Pointers for Successful Litigation in Federal Court: The Magistrate Judge's Role in Your Case
Honorable Michael Hegarty
Honorable Kathleen Tafoya
Adjourn
Location Information
CBA-CLE Large Classroom
1900 Grant Street, Suite 300
Denver, CO 80203
Get directions
Registration Fees
| | |
| --- | --- |
| Non Member | $379.00 |
| CBA Member | $349.00 |
| Federal Bar Association Member | $309.00 |
| CBA Litigation Section Member | $309.00 |
| Federal Bar Association Member | $269.00 |
| New Lawyer Edge Member | $174.50 |
| CLE ELITE Pass Holder | $0.00 |
General Credits: 7.00
Ethics Credits: 1.00
Sponsor Information
Federal District Court Local Rule Changes and Common Mistakes Practitioners Make, Emerging Issues in Federal eDiscovery Law, and the Impact of the 2016 Defend Trade Secrets Act on Your Federal Court Practice
The Roles of the Federal District Court and Magistrate Judges in Your Case
Ethical Considerations in the Age of Electronic Discovery