35th Annual National CLE Conference® - Labor and Employment Law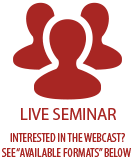 January 2018
35th Annual National CLE & Ski Conference
Top 10 Reasons for You to Go to the National CLE Conference!
10. 35 Years of outstanding CLE in a world-class destination
9. Learning from top practitioners from around the country
8. Networking with lawyers from throughout the U.S. (and internationally)
7. More than 16 CLE credits in only 5 days
6.Great for firm team building
5. Vail mountain is the 3rd largest ski mountain in North American and the 2nd largest in the U.S., with almost 200 trails, and 31 lifts
4. Discount lodging and lift tickets
3. Skiing, snowboarding, snowmobile tours, snowshoe tours, dog sled rides, sleigh rides, ice skating, Ski tubing, luxury bowling, ice climbing, hot tubs, spas, shopping, restaurants, relaxing… And a convenient conference schedule so you can do as much, or as little as you like!
2. Some of the top restaurants in the region featuring casual comfort food to specialty foods to fine dining
1. YOU EARNED IT! Reward yourself and start the year off right!
Top-Notch Legal Education – 9 Substantive Areas of the Law Plus Law Practice Management Sessions
All presentations are live, and feature some of the best lawyers, judges and experts from throughout the country. Our early morning and late afternoon schedule provides 16-19 hours of continuing legal education credit per program while at the same time allowing you ample time to enjoy this world-class resort.
Network with Other Lawyers
Breakfast and après ski are more than just meals. They provide you an opportunity to meet and network with outstanding lawyers from across the country. Make new contacts and new friends!
We expect to bring over 400 participants to Vail, including lawyers, spouses, children and guests. The result is a significant savings for you on rooms, transportation, ski lift tickets, equipment rentals, and more.
About the Law Education Institute:
The Law Education Institute was established in 1980 by Attorneys James J. Podell and Peggy L. Podell for the purpose of presenting outstanding continuing legal education programs. Long active in Bar activities, Jim and Peggy developed the National CLE Conference® into one of the preeminent programs in the country.
Their insistence on high quality speakers and programming has resulted in ABA sections and numerous State Bar and other associations co-sponsoring the programs. It is in the memory of Jim Podell that Colorado Bar Association CLE continues the tradition of this Conference.
The Very Best Legal Education…
- Top-notch speakers – among the best lawyers in the country
- Opportunities for open discussions
- Outstanding resort location
9 Substantive Areas of Law to Choose From…
- Environmental Law, Land Use, Energy and Litigation
PLUS, a complete law practice management session is back again this year by popular demand!
- First Time Attendee. Excellent Program. Great Schedule. Great Program!
- Long-time Attendee…so glad to be back in Vail!
- Excellent quality of information.
- I love this Conference!
- The conference brings together the best speakers and industry leaders from across the nation in a variety of fields. I walked away with both valuable insights from my colleagues as well as numerous new professional contacts...
- This is the best CLE available. Thanks for doing such a great job with this conference.
- The interactive component is fantastic. Love the amount of experience the speakers bring to this conference.
- Good overall subject matter; timely topics ... plus skiing!!
- The quality and caliber of presentations were definitely top notch.
- I appreciated the opportunity to hear from an expert in my field in the classroom, but the bonus was spending a day skiing with that same expert - quality networking doesn't get much better than that!
Please book your room by
December 12, 2017
. All reservations require a credit card. Reservations made after
December 12th
will be at the hotel's current rate available.
Cancellations by
December 27, 2018
will receive a full refund of tuition paid. After
December 27, 2018
no refunds will be issued, but substitutions are welcome.
Special Thanks to Our 2018 Sponsors!

Platinum Sponsor
How to MANAGE  a Small Law Firm
Gold Sponsor
Young Conaway Stargatt & Taylor, LLP
Silver Sponsors
AB Court Reporting & Video, Inc.
First Indemnity Insurance Group
LIV Sotheby's International Realty
Co-Sponsors
ABA General Practice, Solo and Small Firm Division
ABA Section of Intellectual Property Law
ABA Tort Trial and Insurance Practice Section
International Trademark Association
Nebraska State Bar Association
35th Annual National CLE & Ski Conference
January 3-7, 2018, Vail Mountain Marriott Resort
Eric W. Iskra, Spilman Thomas & Battle, PLLC, Charleston, WV
Arnold H. Pedowitz, Pedowitz & Meister LLP, New York, NY
- Brush Up on Over 20 Employment Law Topics with More Than 40 Speakers Representing In-house Counsel, Management, Plaintiff and Judicial Perspectives
- Hear Both the Plaintiff and Defense Side of Important Labor and Employment Issues at ONE Conference
- Learn and Network with Colleagues in Your Practice Area from Across the U.S.
Wednesday, January 3, 2018
2017 Year in Review— Key Employment Law Decisions
Steven Suflas, Ballard Spahr LLP, Cherry Hill, NJ, and Denver, CO
Nantiya Ruan, Professor of the Practice of Law, University of Denver Sturm College of Law; Of Counsel, Outten & Golden LLP, Denver, CO
Workplace Investigations: Overcoming Difficult Issues
Elizabeth Rooney Rita, Investigations Law Group, LLC, Denver, CO
Julie Moore, Employment Practices Group, Wellesley, MA
Sue Ann Van Dermyden, Van Dermyden Maddux, Sacramento, CA
Moderated by Jeffrey D. Patton, Spilman,Thomas & Battle, PLLC
Thursday, January 4, 2018
Sexual Orientation and Gender Discrimination: The Evolving Landscape
Gail Golman Holtzman, Jackson Lewis P.C., Tampa, FL
Timothy J. Long, Orrick Herrington & Sutcliffe LLP, Sacramento, CA
Jennifer Schwartz, Outten & Golden LLP, San Francisco, CA
The Most Pressing Issues Facing In-House Counsel
Caryl Flannery, Staff Vice President, Human Resources, Centene Corporation, St. Louis, MO
Wayne J. Paschke, Staff Counsel, Labor and Employment, Verizon Wireless, Basking Ridge, NJ
Bryan Brum, Attorney, Legal Department, United Parcel Service, Atlanta, GA
Eric W. Iskra, Spilman Thomas & Battle, PLLC, Charleston, WV
The Trump Administration's Impact on Benefits: The Statutory and Regulatory Landscape
Erin M. Sweeney, Miller Chevalier, Washington, DC
Bernard T. King, Blitman & King LLP, Syracuse, NY
Plenary Session - More Fun with Ethics at the Movies
Larry J. Cohen, Ph.D., J.D., Cohen's Counsel, Bethel, VT
The Opioid Epidemic: The Interactive Process and Accommodations in the Workplace
Glenn A. Duhl, Zangari Cohn Cuthbertson Duhl & Grello P.C., New Hartford, CT
Patrick Solomon, Thomas & Solomon LLP, Rochester, NY
Trade Secrets and Non-Competes: The Most Common Litigated Issues
Arnold H. Pedowitz, Pedowitz & Meister LLP, New York, NY
Gary Eidelman, Saul Ewing LLP, Baltimore, MD
Class and Collective Actions: 2017 Updates and Best in "Class" Strategies on Prosecuting and Defending Class and Collective Claims
John M. Husband, Holland & Hart LLP
Adam T. Klein, Outten & Golden LLP, New York, NY
Moderated by Michael P. (Mike) Royal, Littler Mendelson, Dallas, TX
Hot Topics on Wage and Hour Issues
Ellen C. Kearns, Constangy Brooks Smith & Prophete LLP, Boston, MA
Orin Kurtz, Gardy & Notis, LLP, New York NY
Tips from Neutrals: A "Decision Tree" Analysis to Resolving Claims
Daniel M. Klein, Klein Dispute Resolution, Atlanta, GA
Louis B. Kushner, Rothman Gordon, Pittsburgh, PA
Navigating Landmines During Workplace Investigations
Barry D. Roseman, McNamara Roseman & Kazmierski LLP, Denver, CO
Mark Mallery, Ogletree, Deakins, Nash, Smoak & Stewart PC, New Orleans, LA
Is Your Settlement Agreement Enforceable? Key Concerns in Enforcing Settlement Provisions
Zoë Tellman, Dickson Geesman LLP, San Francisco, CA
Sean Gallagher, Polsinelli PC, Denver, CO
Saturday, January 6, 2018
What We Know About Trump and Immigration: How It Impacts Labor and Employment Lawyers
Jonathan A. Grode, Green & Spiegel LLC, Philadelphia, PA
Ceridwen (Ceri) Koski, Ogletree, Deakins, Nash, Smoak & Stewart PC, Denver, CO
Moderator: Amy Novak, Novak Law Office, Vail, CO
Telecommuting as a Reasonable Accommodation
David A. Hughes, Jackson Lewis P.C., Atlanta, GA
Anne Shaver, Lief Cabraiser Heimann & Bernstein, San Francisco, CA
Moderator: Mary Smigleski, Lewis Brisbois, Pedowitz & Meister LLP, Chicago, IL
The Impact of Technology on the Global Workplace and Labor and Employment Law
Wendi S. Lazar, Outten & Golden LLP, New York, NY
Dr. Gerlind Wisskirchen, CMS Hasche Sigle, Cologne, Germany
The Latest on the Social Media Impact on Labor and Employment Issues
Stacey A. Campbell, Campbell Litigation, P.C., Denver, CO
J. Nelson Thomas, Thomas & Solomon LLP, Rochester, NY
Trying Cases to Win: How to Theme Your Employment Case
Laura Schnell, Eisenberg & Schnell LLP, New York, NY
Doug Dexter, Farella Braun + Martel LLP, San Francisco, CA
How to Win Your Case During Jury Selection
Ty Hyderally, Hyderally & Associates PC, Montclair, NJ
Stephen E. Fox, Polsinelli PC, Dallas, TX
Employment Law Motions in Limine – Observations – What Is Trending or Successful?
Gregory Sato, Kobayashi, Sugita & Goda, LLP, Honolulu, HI
Steven Seymour, Samuels Yoelin Kantor LLP, Portland, OR
Honorable Michael J. Watanabe, U.S. District Court for the District of Colorado, Denver, CO
The Ethical Boundaries of Adversary Investigations
- Addressing the Need for Information about Your Adversaries, Including Such in Intellectual Property Disputes
- Investigative Techniques Generally, and Use of Private Investigators, Specifically
- Applicable Law and Rules, Including Rules 4.1 (a), 4.2, 4.3, 4.4(a), 8.4(c), and 5.3 of the ABA Model Rules of Professional Conduct
- Potential Penalties and Consequences for Violations
- Case Analyses and Hypotheticals
Presented by Michael Chiappetta, Senior Legal Editor, Intellectual Property & Technology, Practical Law, New York, NY. Your speaker will share with you his experiences in the intellectual property practice area along with how such ethical considerations may apply in other practice areas and other practice area examples
Ethical Considerations Regarding Collection and Admission of Social Media Evidence
What was once a thought or a spoken word is now memorialized as tangible evidence. A running journal of an individual's activities, thoughts, and movements is a potential treasure trove of evidence not to be ignored. Improper collection can lead to spoliation and/or preclusion of evidence. Gregory MacFarlane, JD, E-Discovery Specialist, Thomson Reuters/Pangea3, New York, NY will discuss the case law (state & federal), FRCP, Rules of Evidence (801, 901, & 902), ABA Model Rules (401 & 804), and bar opinions surrounding preservation of evidence, best practices for collection, rules of evidence and how to lay a proper for admission of this evidence. These winning strategies will lower the cost of litigation and improve work product.
Presented by Gregory MacFarlane, JD, Legal Consultant│E-Discovery Specialist, Thomson Reuters, New York, NY
Location Information
Vail Marriott Mountain Resort
715 West Lionshead Circle
Vail, CO 81657
Get directions
Registration Fees
| | |
| --- | --- |
| Before December 22 | $699.00 |
| CBA Member - Before December 22 | $679.00 |
| CLEACCESSPASS---ELITE Pass Holder | $499.00 |
| New Lawyers (in practice 5 years or less) | $499.00 |
| New Lawyer Edge Partner | $349.50 |
General Credits: 19.00
Ethics Credits: 1.20
EDI Credits:
To join the CBA or add a Section to your membership click