Family Law Evidence Practicum - Practice Evidentiary Techniques - LIVE ONLY!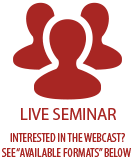 April 2019
Family Law Evidence Practicum - Practice Evidentiary Techniques
LIVE ONLY!
Co-sponsored by the Colorado Bar Association Family Law Section
Program Desciption
Great trial lawyers are not born. Rather, successful trial advocacy is the result of thorough preparation, true heart and grit, and practice, practice, practice. And practice is what you will receive at CBA-CLE's Annual Family Law Evidence Practicum! Spend the day with judges and some of the most experienced domestic relations attorneys in Colorado as they share their craft, advice and tips on key evidentiary techniques such as laying a foundation, making the proper objection, hearsay, and much more. At the end of the day, you will have the confidence you need to succeed in the courtroom.
Whether it's valuing a business after the passage of the federal Tax Cuts and Jobs Act, the disclosure of assets and liabilities, tips on presenting a case to a CFI, or a practical analysis of the most recent case law and legislative activity, this program will get you up to date on all that is happening in Colorado family law. PLUS two ethics credits!
Learning Objectives
At the end of the day, you will have practiced and received one-on-one feedback on--
- Direct and Cross Examination
- Using Exhibits and Making Objections
- Key Aspects of Hearsay Rules
- Impeachment and Refreshing Recollection
… and advice from judges and experienced family law practitioners!
Featuring-
A Judges' Panel
- Judicial Perspectives on Domestic Relations Evidentiary Issues!
An Important Program for You as a Domestic Relations Practitioner to Increase Your Competence in the Courtroom!
*
CANCELLATION AND SUBSTITUTIONS
: If you are unable to attend, please notify CBA-CLE by
May 16, 2019
and we will gladly refund your tuition in full, or you may send someone in your place.
Because attendance is limited for this live only course, cancellations after May 16, 2019 will be refunded less a 50% cancellation fee
.
Registration and Continental Breakfast
Honorable Kelley Southerland, District Court Magistrate, 17th Judicial District
Refresher on Direct and Cross Examination
Presented by David Lamb, Esq., Sherr Puttmann Akins Lamb PC
Presented by the Honorable Sean Finn, District Court Judge, 17th Judicial District
Using Exhibits and Making Objections
Presented by the Honorable Lisa Teesch-Maguire, District Court Magistrate, 18th Judicial District
Evidentiary Strategies and Advice from the Bench
Judicial Panel Luncheon (Lunch is Included in Your Tuition)
Presented by all Judges on the Faculty
Key Aspects of the Hearsay Rules
Presented by the Honorable Ryan Loewer, District Court Magistrate, 1st Judicial District, and the Honorable Ed Moss, District Court Judge, 17th Judicial District
Impeachment and Refreshing Recollection
Presented by the Honorable Sean Finn, District Court Judge, 17th Judicial District, and the Honorable Bradley Varmo, District Court Magistrate, 17th Judicial District
Questions and Answers with Members of the Faculty
Location Information
East Combined
1290 Broadway #1700
Denver, CO 80203
Get directions
Registration Fees
| | |
| --- | --- |
| Non Member | $459.00 |
| CBA Member | $369.00 |
| CBA Family Law Section Member | $319.00 |
| New Lawyer Edge Partner | $184.50 |
| CLE ELITE Pass Holder | $99.00 |
General Credits: 8.00
Ethics Credits:
EDI Credits:
To join the CBA or add a Section to your membership click
Sponsor Information
A Court's Decisions to Allow or Deny a CFI or PRE Reports When Requested
New Tax Cuts and Jobs Act and the Effects on Divorce
Ethics: Lawyers Say the Darndest Things … Teaching Moments