Family Law Spring Update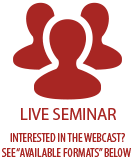 RESCHEDULED FROM 03/27/20
RESCHEDULED Family Law Spring Update 2020
Co-Sponsored by the Colorado Bar Association Family Law Section
Program Description:
Start the new decade on the right foot learning what's new and sharpening your family law skills. The 2020 Spring Update will cover the latest cases and legislation that will affect your practice. Learn about unique issues related to trust interactions in domestic relations, and new challenges with minors, privilege, and mental health treatment. The program will cover tips for drafting marital agreements, information on collaborative law, an ethics credit, and much more.
Register today!
Please note that all Home Study products will be available approximately 2 weeks after the date of the live program.
Titles you Might be Interested In:
Practitioner's Guide to Colorado Domestic Relations Law, Third Edition
(Includes 2018 & 2019 Updates)
Playing by the Rules: Winning with Evidence in Colorado Family Law Cases,
Second Edition
This program has been rescheduled to October 16, 2020
Registration and Breakfast
8:30 – 8:40 AM
Welcome and Introductions
Extended by Steven Epstein, Esq., Epstein Patierno, LLP, and William King, Esq., Law Office of William B. King, Program Co-Chairs
8:40 – 9:30 AM
Case Law Update
Presented by Luke Abraham, Esq., and John C. Haas, Esq., Litvak Litvak Mehrtens and Carlton, P.C.
9:30 – 10:20 AM
Legislative Update
Presented by Marie Avery Moses, Esq., Lass, Moses, Ramp & Cooper LLC
10:20 – 10:40 AM
The Shifting Terrain of CRCP 16.2 (e)
Presented by John Tatlock, Esq., Epstein Patierno, LLP
10:40 – 10:50 AM
Networking Break
10:50 – 11:40 AM
The Uncertain Treatment of Beneficial Interests in Trusts in Dissolution of Marriages
Presented by Gerard (G.) Deffenbaugh, Esq., and David Kirch, Esq., Kirch Rounds Bowman & Deffenbaugh PC
11:40 – 12:30 PM
Preteens, Privilege, and the Pitfalls of C.R.S. 12-245-203.5 et seq.
Presented by Honorable Angela Arkin (ret.), JAG, Ann Gushurst, Esq., Griffiths Law PC, and Jane A. Irvine, MA, LPC, NCC
12:30 – 1:35 PM
Lunch on Your Own
1:35 – 1:55 PM
The Case for the Abrogation of Common Law Marriage
Presented by Steven Epstein, Esq., and Chandra Zdenek, Esq., Epstein Patierno, LLP
1:55 – 2:25 PM
The Multiple Purposes of Marital Agreements and Drafting Tips
Presented by Danielle N. Contos, Esq., Griffiths Law PC
2:25 – 3:15 PM
Ethics: The Ins and Outs of Withdrawal When the Client Objects and Getting Paid
Presented by Patrick Barkman, Esq., David Collins, Esq., and April D. Jones, Esq., Jones Law Firm, PC
1 Ethics Credit
3:15- 3:30 PM
Networking Break
3:30 – 4:00 PM
Collaborative Law
Presented by Terri Harrington, Esq., Harrington Brewster Mahoney Smits, P.C.
4:00 – 4:50 PM
The Rules of Evidence, the Internet, and Social Media
Presented by Daniel N. Deasy, Esq., Ammarell Deasy, LLP
4:50 PM
Closing Remarks
5:00 PM
Adjourn
Location Information
CBA CLE East Classroom
1290 Broadway #1700
Denver, CO 80203
Get directions
Registration Fees
| | |
| --- | --- |
| Non Member | $489.00 |
| CBA Member | $389.00 |
| CBA Family Law Section Member | $329.00 |
| Paralegal/Legal Support Staff | $247.00 |
| New Lawyer Edge Partner | $164.50 |
| CLEACCESSPASS - ELITE Pass Holder | $0.00 |
General Credits: 8.00
Ethics Credits: 1.00
Sponsor Information
- Case law and legislative updates
- Practice tips for marital agreements, introducing online evidence in the courtroom, and more
- Experienced faculty who will challenge your thinking on common law marriage, trust interests in divorce, and more