Best Practices and Ethics in the Profession - In-Person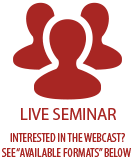 Stay on top of ethical issues faced by modern law practices, and earn 6 professional responsibility credits along the way. Learn how to write a fee agreement that satisfies ethical rules; discover how to spot and manage potential conflicts when representing related companies or related individuals; hear about best practices in cyber security; and more! Led by expert faculty, this program will improve your practice and help ease the anxiety of running a firm.
- Annual survey of malpractice cases
- Judges Panel discussing their duty to report unethical conduct
- Managing client expectations and disagreements with communication
Co-Sponsored by Lockton Affinity, the Colorado Bar Insurance Program
The First 20 Registrants Get $100 off Tuition, Courtesy of Lockton Affinity, the CBA endorsed lawyer's professional liability insurance carrier!
Use coupon code
LOCKTON22
at checkout.
Home studies will be available approximately 2-3 weeks following the live program.
For your own safety, the safety of others, and in an effort to provide everyone with the most rewarding in-person meeting and event experiences possible, we request that you attend a CBA, DBA, or CLE meeting or event only if you have been fully vaccinated. Mask wearing is up to personal preference and comfort level. Masks may be required in some clinic settings. Please be cognizant and understanding of others' preferences and courteous to all attendees.
Depending on CDC and/or state or local health guidelines, a rise in COVID-19 cases, or other circumstances that may threaten the well-being of our attendees, CBA-CLE reserves the right to convert to a fully virtual event.
If disability accommodations or special assistance are needed, please contact us at clereception@cobar.org. Requests must be made at least two weeks prior to the scheduled program.
The program will be submitted for CLE accreditation in Colorado. If you need to seek accreditation in another state, please review the process and requirements for that individual state. CBA-CLE staff can provide a Uniform Certificate of Attendance, and it is the attendee's responsibility to complete the accreditation outside of Colorado.
Registration and Coffee
Welcome and Introduction
Presented by Ben Skeen, Program Attorney, CBA-CLE, and the CBA LPL Committee
Resolving Conflicts and Disagreements with your Clients During Representation
Effective communication with clients is essential to avoiding a grievance when the going gets tough. Learn how to manage client expectations, address conflicts that arise during representation, handle disagreements over strategy, and how to get a client alternative counsel or a second opinion.
Presented by Nicole M. Black, Esq., Cohen|Black Law
Submitted for 1 Ethics Credit
Stretch Break
Cyber Concerns for Attorneys
Law firms are valuable targets for cyber criminals, who are sometimes seeking private information, and sometimes just looking to steal money. Learn common tactics used by cybercriminals, your ethical obligations to keep client data safe, how to respond to an attack, and how cyber insurance can protect your firm.
Presented By Jeff Severino, CPCU, MBA, Lockton Affinity
Submitted for 1 Ethics Credit
Stretch Break
Annual Legal Malpractice Update
Discover the latest developments in statutory and case law regarding professional responsibility and malpractice.
Presented by Troy Rackham, Esq., Spencer Fane, LLP
Submitted for 1 Ethics Credit
Lunch on your Own
Fee Agreements and Rule 1.5(b) Changes
Review your client intake documents, and determine when and to whom you must communicate the basis of your fees and expenses.
Presented by Janie Cox, Esq., Burns Figa & Will, P.C.
Submitted for 1 Ethics Credit
Stretch Break
Family Conflicts: Traps and Tips for Representing Related Companies and Related Human Beings
Learn how to navigate conflicts and privilege concerns when representing clients with legal concerns that touch related companies or family members.
Presented by Chris Montville, Esq., Haddon, Morgan and Foreman P.C
Submitted for 1 Ethics Credit
Stretch Break
Judges Panel
Our panel of judges will discuss civility and professionalism in court, when litigation strategy and tactics might merit grievance, and how judges handle cases when potential disciplinary issues arise.
Presented by Honorable Richard Caschette (ret.),Judicial Arbiter Group, Inc.; Honorable Thomas K. Kane, District Court Judge, 4th Judicial District; and Honorable N. Reid Neureiter, United States Magistrate Judge, U.S. District Court for the District of Colorado.
Moderated by Gerald D. Pratt, Esq., Law Office of Gerald D. Pratt, P.C.
Submitted for 1 Ethics Credit
Location Information
CBA CLE East Classroom
1290 Broadway #1700
Denver, CO 80203
Get directions
Registration Fees
| | |
| --- | --- |
| Non Member | $519.00 |
| CBA Member | $389.00 |
| New Lawyer Edge Partner | $194.50 |
| Paralegal/Legal Support Staff | $194.50 |
| Active Military | $194.50 |
| Public Service/Government | $194.50 |
| Student Currently Enrolled in Law School | $0.00 |
| ELITE Pass Holder | $0.00 |
General Credits: 6.00
Ethics Credits: 6.00
EDI Credits:
To join the CBA or add a Section to your membership click