10th Annual Elder Law Retreat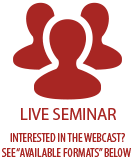 August 2018

10th Annual Elder Law Retreat
Co-Sponsored by the Elder Law Section of the Colorado Bar Association and the Colorado Chapter of National Academy of Elder Law Attorneys
Featuring 17 Timely, Practical, and Helpful Sessions, Including:
-
How the Stockholm Syndrome Can Impact Elders and Families
- Opioids and Elders in the Homes, Courts and the Medical Field; Issues and Advice
- Protocols, Procedures and the Work of the Public Guardianship Program in Colorado
- Preparing for Transition: Succession Planning for Fiduciaries and Attorneys
- Identifying and Dealing with Complex GAL and Legal Issues in Probate
- Working Through the Complexities of Settlement Planning
- All the New Law - the Case Law and Legislative Updates
Plus! Terrific Breakout Sessions, Including:
- Protecting Minors with Guardianships
- Emergency Medicaid Planning
- ALJ Medicaid Judge Appeals
- Conservatorships and Divorce
- Unusual Guardianship Cases
- Obtaining Information from a POA
WHEN:
Thursday, August 23 - Saturday, August 25, 2018
WHERE:
715 West Lionshead Circle
CREDITS:
Submitted for 14 General CLE Credits, Including up to 2.4 Ethics Credits
Hotel/Lodging Information:
MARRIOTT ROOM ACCOMMODATIONS:
The block for our group rate closed on August 8, but the Marriott does have rooms available at a higher rate. You can reserve your rooms online at: https://bit.ly/2MTYtbY
OVERFLOW LODGING -We have additional additional lodging at
:
Lion Square Lodge in Vail
Rates and room types: Hotel Rooms: $185/night and 1 Bedroom: $235/night
Current tax & resort fees are 16.94%. Rates are on a per night basis and are valid 5 days before and after group dates.
Guests can call 1-844-642-2662 to reach the reservations department to book their lodging. Please instruct guests to identify themselves as guests for Elder Law-Colorado Law to ensure that they receive the above discounted group rates.
Check in time is 4:00pm and check out is 11:00am. Room, tax and incidentals will be the responsibility of the individuals. Cancellations received 8 days or more prior to arrival are eligible for a full refund. Cancellations or reductions in total nights of the reservation received 7 days or less prior to arrival will be assessed full stay room rental charge. No shows will be charged for their entire reservation.
A one night lodging deposit is due within 7 days of making your reservation. Final payment plus tax is due upon arrival.Parking is free for anyone staying at this location.
CANCELLATIONS:
If you are unable to attend, please notify CBA-CLE by
AUGUST 17, 2018
and we will gladly refund your tuition in full. Cancellations
after August 18th
will be refunded less a $100 cancellation fee
OR
you may send someone in your place.
SPECIAL THANKS TO OUR 2018 ELDER LAW RETREAT SPONSORS!

Platinum
CFPS-Colorado Fund for People with Disabilities | Colorado State Bank & Trust
JAMS
PeopleCare Health Services


Gold
ANB Financial Services
Baysore & Christian Fiduciary Services LLC
Good Shepherd Fund
Integrity Marketing Solutions
McTeam Properties/Mature Moves Division
The Care Navigator

Silver
Case Coalition
Colorado CLE Books
Colorado CLE Pass
ColoradoABLE
Dumb Friends League
Eide Bailly, LLP
ElderCounsel
Friends for Life
InterActive Legal
Krause Financial Services
Northbound Coaching
True Link Financial

SPONSORSHIP OPPORTUNITIES ARE STILL AVAILABLE! Please contact Melissa Higham at mhigham@cobar.org for more information.

Thursday, August 23, 2018
Welcome and Opening Remarks
Colorado Office of Public Guardianship Pilot Program
- The history, reasoning and need behind the creation of a public guardianship office in Colorado
- Why is this a pilot project?
- The protocols, procedures and work to date of the PGC
- What is working so far in Colorado, and what is not?
- What are other states doing?
Marco D. Chayet, Esq., and Shari D. Caton, Esq.
Networking Break – Please Visit Your Sponsors!
A Panel Discussion on Succession Planning for Fiduciaries and Attorneys: The Cobbler's Children Have No Shoes – The Time to Prepare for a Transition is Before It Happens
- What happens when a lawyer or a fiduciary leaves without advance planning?
- Impact of the failure to engage in planning for the future on our clients
- Practical steps to take to prepare for death or disability
- Review of relationship between the Colorado Rules of Professional Conduct and succession planning for attorneys
Barbara E. Cashman, Esq., Robert McCauley, Professional Fiduciary, and Gregory Sapakoff, Esq., Deputy Regulation Counsel
Moderator: Sandra Sigler, Esq.
Networking Break – Please Visit Your Sponsors!
The Guardian ad Litem's Complex Ethical Scope and Role Under the Colorado Probate Code
- Colorado Uniform Guardianship and Protective Proceedings Act
- GAL and confidentiality
- GAL as a litigant, witness, or signer of documents on behalf of respondent
- GAL's role in light of the new Formal Ethics Opinion 131 and post-adjudication statute
Arlene S. Barringer, Esq., Sarah L. Golombek, Esq., and Thomas A. Rodriguez, Esq.
Moderator: Tammy D. Conover, Esq.
Adjourn
Welcome Reception -
Sponsored by the Colorado Fund for People with Disabilities and Colorado State Bank & Trust
Continental Breakfast -
Sponsored by JAMS
Welcome and Morning Remarks
Jeremy Schupbach, Director of Legislative Relations
Unraveling Roots to Understand Branches
Drugs have long been considered a social ill that we as a society must eradicate, but, 48 years into the drug war, it has become increasingly clear that addiction, not drugs themselves, is the issue with which we must contend. This talk will address the underlying causes of addiction (mental illness, traumatic brain injury, trauma, etc.), what addiction actually is, and some possible approaches to dealing with it.
Magistrate Albert S. Zweig
The Scope of the Opioid Crisis and Its Impact on the Colorado Community and Protective Proceedings
A discussion of the use and abuse of opioids by elders or their family members and the impact on clients; practical information and examples
Ayodele G. Labode, Esq., Robin Yasui, MD, and Magistrate Albert S. Zweig
Networking Break – Please Visit Your Sponsors!
Protecting Minor Children—Guardianships and Settlement Resolution
Guardianship for a minor under Title 15 and the interplay of Title 14; Gathering information prior to filing of a Rule 16 Petition; Hearing and post hearing considerations
Sherene C. Stenger, Esq., and Timothy D. Bounds, Esq.
Emergency Medicaid Planning
Opportunities for planning for a married couple and a single person; Spend-down strategies; Excess assets and mitigating the damage of ineffective trusts; Application process: navigation and timing; Home- and Community-based services and family caregivers; Facility private pay requirements as a prerequisite to obtaining care under Medicaid
Bryan C. Benbow, Esq., and Shauna C. Clemmer, Esq.
Topic A3
Forensic Accounting in Elder Law Matters - It Never Gets Old
Processes for obtaining financial records; Ask for the right records; Review of accountings – what to look for; Selecting an expert; Consideration of other financial records and reports; Fraud prevention
Gary Schwartz, CFE, and Marcie R. McMinimee, Esq.
Mediation, Resolution, and Kumbaya; or Jack and Jill Went up a Hill
Mediation is a different process for elder law, probate litigation, and contested guardianship and conservatorship cases. An open forum will explore the forms of dispute resolution, who is involved, when to bring in an expert, how to deal with difficult parties or family members, spotting ethical issues and how to meaningfully and successfully involve your clients.
Rose M. Zapor, Esq., and Martha L. Ridgway, Esq.
ALJ Medicaid Judge Appeals
Office of Administrative Courts
Statutory powers, nature of, limits of authority
Adequate and proper notice
What a notice must contain and the most common defects in notices
Timeline
Deadlines, preparation, what is required of the county, sample letters and briefs
Most common reasons for appeal Resolving appeals prior to hearing Beyond appeal
HCPF's review division, district court, limits of exhaustion of remedies requirement
Claire E. Dineen, Esq., and Lance E. McKinley, Esq.
Conservatorship and Divorce
- Legal standards and options for GAL's, conservators, and special conservators
- When does a divorce need to take a detour to the probate court?
- Divorce law basics and issues impacting the spouses and children of a divorce in cases involving crossover to the probate world
- Tips for divorce and probate counsel working together
Jerremy M. Ramp, Esq., and Scott H. Challinor, Esq.
Networking Break to Pick up Lunch
Integrating the Elder Law Attorney into the Complexities of the Settlement Planning Process–A Cross Disciplinary Planning Process Using Real Life Case Studies, i.e., The David Repsher Settlement
- Evaluating each category of the unique needs of injured people
- Utilizing specialized resources and knowledgeable providers
- Dealing with compliance issues related to injury settlements
- Qualified settlement trusts
- Role of structured settlement annuities
- Medicare Secondary Payer Act
- Needs-based benefits preservation
- Ongoing investment management and estate planning
Eric Solem, Esq., Nicole Quintana, Esq., Mark Dickson, David Simon, and Gregory P. Seal
Spencer J. Crona, Esq., and Kayla R. Nelson, Esq
Enjoy Vail and see you at the Annual Wine Tasting at 5:30 pm!
Annual Wine Tasting –
Sponsored by PeopleCare Health Services
Saturday, August 25, 2018
Continental Breakfast
Welcome and Morning Remarks
This is Not Your Patty Hearst Case of the Stockholm Syndrome
- How an older person could become a victim to the Stockholm Syndrome without realizing it
- Characteristics that could lead to exploitation
- How a victim of the Stockholm Syndrome would not want to testify against the alleged perpetrator
- Why a Respondent would not want to testify against the person who is suspected of holding them captive and/or exploiting them
- How a victim would refuse to accept and passionately disagree that they are being victimized, despite all evidence
- Discerning the difference between voluntarily exercising their choice to "give up the farm" versus being coerced
- Various agencies and organizations that could become suspicious that an older person might be a victim of the Stockholm Syndrome
- Various methods a perpetrator could use to "captivate" an older person
Richard Spiegle, Psy.D, and Catherine (Cate) Seal, Esq.
Networking Break – Please Visit Your Sponsors!
Unusual Guardianship Topics and Cases
It's all about the money . . . Or is it? Join us for a loosely guided discussion of how "sticky wickets" and other complications can spiral out of control before and even after appointment of a guardian or conservator.
M. Carl Glatstein, Esq., and Debbie Reinberg, MAcc
The New POMS and Tax Law re: Trusts, ABLE and More
Changes related to trust administration and post-eligibility
- 90-day amendment period
- Clarifications on POAs establishing trusts
- Indian Gaming Revenue Act trusts and ABLE accounts
New tax law creates two important changes to ABLE accounts
- Practical implications for drafting and administration for attorneys, fiduciaries and trustees
Susie Germany, Esq., and Megan Brand, Executive Director
You Can't Handle the Truth! A Few Good Ways to Obtain Information from a POA
- Who has standing to request/receive information?
- Compelling information from an agent under the Uniform Power of Attorney Act
- Best practices for getting information without a fight
- Medical agents and HIPAA
Brooke W. Brestel, Esq., and Alison Zinn, Esq.
Thank You for Attending the 10th Annual Rocky Mountain Regional Elder Law Retreat!
Location Information
Vail Marriott Mountain Resort
715 West Lionshead Circle
Vail, CO 81657
Get directions
Registration Fees
| | |
| --- | --- |
| Non Member | $469.00 |
| CBA Member | $449.00 |
| CBA Elder Law Section Member | $399.00 |
| CBA Trust & Estate Law Section Member | $399.00 |
| NAELA Member | $399.00 |
| Colorado Guardianship Association Member | $399.00 |
| Government Employee Rate | $339.00 |
| New Lawyer Edge Partner | $224.50 |
| ELITE Pass Holder | $199.00 |
General Credits: 13.00
Ethics Credits: 2.00
EDI Credits:
To join the CBA or add a Section to your membership click
Sponsor Information
Overcoming Obstacles, Breaking Down Stereotypes, and Changing Perspectives Using My Life Experiences Tailored to Special Needs Law and Elder Law Practitioners
Presented by the Honorable Justice Richard H. Bernstein, Michigan Supreme Court
Panel on End of Life Options; Proposition 106 and the Ethics of Counseling a Client on End of Life
- Jennifer Moore Ballentine, MA, President, The Iris Project
- Michael A. Kirtland, Esq., Kirtland & Seal LLC
- Jean Abbott, MD, MH, Professor Emerita, Center for Bioethics and Humanities, University of Colorado Anschutz Medical Campus
Addressing Domestic Violence in the Elder Community
Presented by:
- John Gleason, Esq., Burns, Figa & Will
- Allison Rocker, Esq., Denver Deputy District Attorney, Denver District Attorney's Office
Moderator: Michelle Adams, Esq., Law Office of Michelle Adams, LLC