Advanced Elder Law Institute - Protecting Our Elders Financially, Medically, and Legally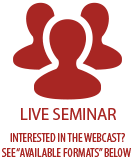 Advanced Elder Law Institute - Protecting Our Elders Financially, Medically, and Legally
Program Highlights:
Featuring:
KEYNOTE PRESENTATION: Perspective from the Bench on Probate Appellate Issues
Presented by Colorado Supreme Court Justice Brian Boatright
Program Description:
As we age, we become more vulnerable to abuse: physically, financially, medically, and socially. As trusted counsel, we are called upon not only to give legal advice, but also to lend a helping hand in the myriad of complex areas elderly people face, oftentimes without the help of nearby family or friends.
The Advanced Elder Law Institute provides fascinating and cutting-edge information on these very issues, including physician-assisted death, financial exploitation of the elderly, how to advise your clients on what services your community provides, and so much more.
Registration and Continental Breakfast
Extended by M. Carl Glatstein, Esq., and Jennifer S. Gormley, Esq., Program Co-Chairs
The Affordable Care Act as It Relates to Elders, Medicaid/Medicare, Funding and Public Policy
Presented by Mary Catherine Rabbitt, Esq.
"Doctor, Will You Please Help Me Die?"
An Exploration of the Medical, Ethical, and Legal Aspects of Decisions at the End of Life
Presented by Richard Martinez, MD, MH, Daniel Johnson, MD, FAAHPM, and Casey Frank, Esq., MPH
Use of GALs; Recent Changes in the Law; Orders
Presented by Madeline Duncan, Esq.
Use of Care Managers in Elder Law
Mandatory Reporting, Self-Neglect and Other Issues
Presented by Karen Buchanan, RN, BSN
Case Law and Legislative Update
Presented by Jamie Roth, Esq.
Safety, Violence and Mental Health Issues in Care Facilities
Presented by J.M. Reinan, Esq.
Welcome Back and Announcements
Perspective from the Bench on Probate Appellate Issues
Presented by Justice Brian Boatright
Equal Protection for Disabled Individuals Funding Supplemental Needs Trusts After Age 65
Presented by Jennifer Gormley, Esq.
Client Identification, Confidentiality, Conflicts and Family Dynamic
Presented by Professor Rebecca Morgan, Stetson University
Financial Exploitation of Our Elders
Learn how investigators "follow the money" to understand and document the information provided to law enforcement or APS agencies so they can hold people accountable for taking advantage of the elderly. Attorneys can also use this information in any type trial proceeding.
Presented by Doug Cash, MBA, CFE, CFI, CFCI, Eide Bailly
Interdisciplinary Approaches to Providing Guardianship Services
Presented by Charles Golbert, Deputy Public Guardian, Cook County, IL
Understanding Aging Demographic Trends and Advising Your Clients on Community Based Service Options
Presented by Jayla Sanchez Warren, Director, DRCOG - Area Agency on Aging, and John Zabawa, President/CEO, Seniors' Resource Center
Protective Proceeding Monitors and Life After the Probate Audit
What the Auditor's Office Does, How They Work with the Courts and Parties; If the Auditor's Office Files Charges or Takes Action, What Happens When a Fiduciary Breaches His/Her Duties; Nuts and Bolts
Presented by Brian Rulla, Esq., Senior Auditor
Location Information
CLECI Large Classroom
1900 Grant Street, Suite 300
Denver, CO 80203
Get directions
Registration Fees
| | |
| --- | --- |
| Non Member | $359.00 |
| CBA Member | $309.00 |
| CBA Elder Law Section Member | $289.00 |
| CBA Trust & Estate Law Section Member | $289.00 |
| Government or 501 (c)(3) Organization | $289.00 |
| Paralegal/Legal Support Staff | $249.00 |
| New Lawyer (in practice 5 years or less) | $249.00 |
| CLEACCESSPASS---ELITE Pass Holder | $0.00 |
General Credits: 14.00
Ethics Credits: 1.00
EDI Credits:
To join the CBA or add a Section to your membership click
Sponsor Information
Keynote Presentation: Perspective from the Bench on Probate Appellate Issues

Presented by Colorado Supreme Court Justice Brian Boatright

"Doctor, Will You Please Help Me Die?" An Exploration of the Medical, Ethical and Legal Aspects of Decisions at the End of Life

Protective Proceeding Monitors and Life After the Probate Audit