Advanced Elder Law Institute - Biennial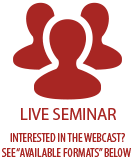 March 2017
Advanced Elder Law Institute - Biennial
There is a lot of exciting news in the elder law community.
On July 3, 2013, then Colorado Chief Justice Michael Bender formed the Public Guardianship Advisory Committee to address Colorado's lack of sufficient systems to protect incapacitated adults who do not have appropriate family or friends available to act as guardian. The Colorado Public Guardianship Pilot Program may be close to coming to fruition in 2017.
On June 4, 2015, Colorado Governor John Hickenlooper signed HB 15-1033, establishing a Strategic Planning Group on Aging. The group will work to analyze and prepare recommendations for the state government to address long-term issues related to Colorado's aging population. It will create a broad strategic plan, as well as recommend specific actions and bills to the General Assembly.
On November 8, 2016, Colorado voters passed Proposition 106, the End of Life Options Act. The measure will allow adults suffering from terminal illness to take life-ending, doctor-prescribed medication.
These three areas, along with many other areas that are critical to your elder law practice, will be part of the discussion at the biennial Advanced Elder Law Institute on March 2-3, 2017.
We look forward to seeing you there - Register Today!
Registration and Continental Breakfast
Jennifer Gormley, Esq., and M. Carl Glatstein, Esq., Program Co-Chairs
Elder Law Case Law and Legislative Update
Presented by Jamie Roth, Esq.
ETHICS: What You Don't Know Can Hurt You: Ethical Issues in Elder Law
This interactive session will focus on several of the ethical issues faced by attorneys in an elder law practice. The session will cover such ethical issues as those that arise with family involvement and family dynamics, dealing with unrepresented persons, attorney competence, client decision-making and more. Video vignettes based on real-life scenarios will be used as a starting point for application of the ethics rules to these compelling problems.
Presented by Professor Rebecca Morgan
Best Practices in Emergency Protective Proceedings
Presented by Thomas Rodriguez, Esq., and Brooke Brestel, Esq.
VA Benefits Overview: Service Related Compensation and Secondary Compensation vs. Enhanced Pensions (Homebound, Aid and Attendance, and More)
When working with clients in elder law and estate planning it is essential that the attorney understands the basics of VA benefits and the difference between Compensation and Pension. This session will provide the foundation of requirements for disability Compensation and Pension.
Presented by Jeanne Burke, Esq.
The Latest in Nursing Home Litigation and What You Need to Know for Your Elder Law Practice
Presented by Jerome "Jay" Reinan, Esq.
Dementia, the Physiology of Aging, and the Effects of Your Elder Law Practice
Presented by Kerry Hildreth, MD
Aid in Dying and the New Statute
Presented by Barbara Cashman, Esq.
Announcements and Welcome Back
Colorado's New Strategic Action Planning Group on Aging
Colorado Strategic Action Planning Group on Aging is charged with examining the impact of the aging demographic shift in Colorado and developing a long-term strategic plan, with recommendations for specific actions and bills by the General Assembly. An important mission of the Planning Group is to ensure adequate and sustainable funding and spending strategies for Medicaid and other state and local programs while also creating a public education campaign to improve individual and family preparedness. In November 2016, the Strategic Action Planning Group issued its first series of recommendations to the Colorado General Assembly and Governor's Office. Learn about these recommendations and the important work of the Planning Group.
Presented by James Riesberg, Chair
Selected Income, Gift and Estate Tax Basics Impacting Elder Law Practice
Presented by Theodore Atlass, Esq.
Mental Health and Behavioral Health Problems in Older Adults
How to Work with These Issues in Your Practice
Presented by Stuart Kutz, Jr., PhD, JD
Designated Beneficiary Agreements
Beyond the Basics of the Creation, Use and Termination of Agreements; Problems and Pitfalls: Ensuring Clients Understand How to Revoke the Agreement and How to Find the Recorded Agreement; Superseding Documents; What Constitutes Full or Partial Termination
Presented by Elizabeth Bryant, Esq.
Effective Retirement Planning for Your Clients
Presented by Misty Clark Vantrease, Esq.
Community Boarding Homes and What They Mean for Our Elder Community
New regulations for Person-Centered Plans have been enacted by the Centers for Medicare & Medicaid Services (CMS) that require Long Term Care Services and Home and Community Based Service (HCBS) to give individuals full access to the community. The CMS Final Rule supports person-centered, safe, quality Home and Community Based services that promotes individual choices, freedom and independence. By March 2019, Colorado providers must become compliant with the Final Rule. These HCBS changes are substantial and will impact both individuals and services providers. The Final Rule impacts Non-Residential Settings, Residential settings and Individual rights. This program will provide a comprehensive overview of Colorado's plan to implement the Final Rule.
Presented by Ayo Labode, Esq.
Public Guardianship Pilot Program
Presented by Shari Caton, Esq.
Location Information
CLECI Large Classroom
1900 Grant Street, Suite 300
Denver, CO 80203
Get directions
Registration Fees
| | |
| --- | --- |
| Non Member | $389.00 |
| CBA Member | $359.00 |
| CBA Elder Law Section Member | $329.00 |
| CBA Trust & Estate Law Section Member | $329.00 |
| Paralegal/Legal Support Staff | $299.00 |
| New Lawyer Edge Partner | $179.50 |
| CLEACCESSPASS---ELITE Pass Holder | $0.00 |
General Credits: 14.00
Ethics Credits: 1.00
EDI Credits:
To join the CBA or add a Section to your membership click
Sponsor Information
Aid in Dying and the New Statute

Colorado's New Strategic Action Planning Group on Aging

Public Guardianship Pilot Program