15th Annual Colorado ADR Conference - In-Person - SOLD OUT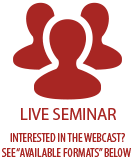 The in-person event at the CBA-CLE classroom is now full. Please register for the
live virtual program
live virtual program
to join us on Friday, October 15th
Join us in-person or on our dynamic virtual platform, and dive into ADR in the Age of Disruption. In a world full of change and innovation, our agenda is focused on the role of ADR professionals; the state of and future of ADR processes; how business is changing; and communication during crises. With a look at the future of ADR, this conference will challenge your thinking, expand and improve your skills, and offer connection with colleagues.
- Don't miss keynote speaker – Professor Janet Martinez on conflict resolution design
- The annual favorite ethics panel returns, brought to you by the MAC
- Opportunities to learn from ADR professionals and experts in our community and beyond
Please note that depending on CDC guidelines, a rise in COVID-19 cases, or other circumstances that may threaten the health of our attendees, CBA-CLE reserves the right to convert to a fully virtual event.
If disability accommodations or special assistance are needed, please contact us at clereception@cobar.org. Requests must be made at least two weeks prior to the scheduled program.
The program will be submitted for CLE accreditation in Colorado. If you need to seek accreditation in another state, please review the process and requirements for that individual state. CBA-CLE staff can provide a Uniform Certificate of Attendance, and it is the attendee's responsibility to complete the accreditation outside of Colorado.
Registration and Breakfast
Welcome and Opening Remarks
Redesigning Conflict in the Age of Disruption: How to Bring Conflict Resolution Design into the Everyday
This year's conference theme is conflict resolution in the age of disruption. We are entering an age in which disruption is the norm and "business as usual" cannot continue to be our operating status quo. The most recent and far-reaching example is the pandemic; other provocations are emergent technology and artificial intelligence. However, many other social and environmental issues have caused us to question the bonds that hold our society and ecosystems together. Is this time an opportunity to fundamentally reset what is meaningful access to justice? Professor Martinez will explore this question and other themes to encourage us to innovate and reinvent our profession. She will introduce broader theories of conflict resolution design with meaningful examples to inspire. Join us to explore the idea of ADR practitioners as dispute system designers in the hope attendees will then apply these design concepts on personal, local, and broader levels from family matters to community and global conflicts.
Presented by Janet (Jan) Martinez, Esq., Ph.D, Senior Lecturer in Law, Faculty Director, Gould Negotiation and Mediation Program, and Co-Director, Gould Alternative Dispute Resolution Research Initiative, Stanford Law School
Mediation Ethics Panel
Ethical issues often arise without warning during mediation. ADR professionals must be able to identify these matters and address them promptly and appropriately. A panel of four experienced mediators will respond to various ethical scenarios. Audience participation is strongly encouraged.
Moderator: Miles Davies, J.D., Dispute Resolution Professionals, LLC
Panelists:
- Peter Fabish, Esq., Conscious Family Law & Mediation LLC
- Judy Mares-Dixon, M.A., Mares-Dixon & Associates
- William (Bill) Mangrum, BlueJean Mediation
- Honorable Jean Stewart (ret.), Jean Stewart LLC
Presented by the Ethics Committee of the Mediation Association of Colorado:
- Miles Davies, J.D., Dispute Resolution Professionals, LLC
- Susan Demidovich, Esq., Attorney/Mediator
- M. Tracy James, Esq., Attorney/Mediator
- Matthew Jarvinen, J.D., Jarvinen Dispute Resolution Services
- Antonia Ozeroff, J.D., Ozeroff Mediation Services
Submitted for 1.5 Ethics/Professionalism Credits
Stretch Break
Breakout Sessions (75 minutes)
#1:
Everything You Ever Wanted to Know About Colorado Law on Mediation
What is the statutory and case law framework for Colorado mediations? What are the relevant court rules? When do you really have an enforceable mediation settlement? What parts of mediation are confidential? What are some ethical issues and pitfalls? A helpful and practical session!
Presented by Steven C. Choquette, Esq., JAMS Denver
#2: What Will the Next 5-10 Years of Conflict and ADR Practice Look Like?
The facilitators will guide the 90-minute participant-centered dialogue on the future of conflict and ADR practice. We will focus on current trends and possible future changes in the conflict environment and discuss how that will potentially affect our professional practice.
Presented by Joseph P. McMahon Jr., Esq., P.E., Manager, Collaborative Processes LLC, and Jennifer Sullivan, Esq., Senior Assistant Dean for Administration and Program Development, University of Colorado Law School
*Please note – this is an interactive session, and it will only be available to in-person attendees.*
Lunch Break
Remarks from Conference Co-Founders
Breakout Sessions (90 minutes)
#3:
Moving Past Conflict: Helping High Conflict Couples Disengage and Get Divorced
Our current legal system isn't equipped to address the specific needs of high conflict divorce, so in this presentation we will take a deep dive into the psychology of high conflict personalities (HCP) and the trauma bonds that make divorce and co-parenting such a nightmare for so many. We will discuss ways to help clients disengage, learn effective strategies for communication and negotiation in mediation, and practical, non-confrontational ways to help streamline the discovery/disclosure process. Understanding the psychological and practical realities of HCPs in divorce is essential and will help divorce professionals and clients save time and money in and out of court.
Presented by Liz Merrill, Open Space Mediation
#4: Mitigating the Impact of Secondary Trauma Exposure for ADR Professionals
ADR professionals often absorb and "take on" other people's problems. From a neurological and physiological perspective, examine why stress is contagious, how the exposure to the hurt and suffering of others can develop into secondary trauma, and how to recognize the signs and symptoms of compassion fatigue and burnout. Learn how to mitigate the impact of trauma exposure with a toolbox of healthy coping strategies and techniques.
Presented by Amy Kingery, MBA, LCSW, LAC, Colorado Lawyer Assistance Program (COLAP)
Networking Break
Connect with colleagues in-person or expand your professional circle in our virtual networking lounge where you can join a table or couch via video for small-group or 1:1 conversations. Pop in for a few minutes or stay a while.
Breakout Sessions (50 minutes)
#5: Remote Mediation: Before, During and After the Pandemic
Remote mediation began as a means to provide access to justice for those living in remote locations and for people facing difficulties accessing the mediator's office, but the pandemic has launched it into a main method for the delivery of mediation for a large variety of cases and parties throughout the state. Now, both practitioners, clients, and courts understand and embrace the benefits of remotely delivering mediation services as it is more efficient, provides opportunities for breakout sessions, co-creation of MOUs, addresses the current lack of room space in physical courthouses, and often decreases anxiety of parties. Technological tools to help parties resolve disputes are playing an increasingly more important role in court cases and mediators need to learn the choreography of online dispute resolution and communication.
Moderator: Elle J. Byram, Esq., Byram Law, P.C.
Panelists:
- Honorable Todd Mackintosh, Magistrate, City and County of Denver
- Honorable Jonathan Shamis, County Court Judge, 5th Judicial District
- Sharon Sturges, Esq., M.P.A, Director, Office of Dispute Resolution, Colorado State Court Administrator's Office
- Elizabeth Walker, Esq., Co-Executive Director, Court Mediation Services
#6: Housing Crisis in a Pandemic
The COVID-19 pandemic contributed to a housing crisis. This presentation will provide an update from last year's conference about the changes regarding forcible entry and detainer (FED) cases and mediation. Evolving moratoriums influenced the shifting landscape of housing in which mediators play a unique role.
Presented by Amber Hill Anderson, MA, Division Director & Lead Mediator, Pesch Law Office, PC, and Deanna O'Sullivan, Esq., CIPP US, Senior Consultant, Iron Mountain
Networking Break
Connect with colleagues in-person or expand your professional circle in our virtual networking lounge where you can join a table or couch via video for small-group or 1:1 conversations. Pop in for a few minutes or stay a while.
Stretch Break led by Melora Bentz, Esq., Middle Path Mediation, LLC
Breakout Sessions (60 minutes)
#7: The Pros and Cons of Using Mediation in Cases with a Presence of Domestic Violence
Domestic violence occurs in a significant number of family law cases that come through the courts. Historically, many have argued that cases with a presence of domestic violence should not be mediated due to the power imbalances of the parties and concerns about mediation causing more harm than good. However, with appropriate training for mediators and good screening tools, mediation may be the preferred method over litigating in the courts to resolve many, but not all, cases that have a presence of domestic violence.
Presented by Elle J. Byram, Esq., Byram Law, P.C., and Jessie Sack, Esq., Hurtado Law, PLLC
#8: Self-Determination and Settlement Fortitude: Does Promoting Self-Determination in Mediation Increase Settlement Satisfaction?
The rise of court-mandated mediation affects perceptions of mediation as voluntary. This session will explore ways to combat post-mediation litigation through promoting party self-determination. We will discuss preliminary findings from data collected from litigators, mediators, and nonlegal professionals regarding perceptions of party self-determination and whether this correlates with settlement satisfaction.
Presented by Tessa DeVault, Esq., DeVault Law, and Wesley Parks, Esq., Cohen & Cohen, P.C.
Cocktail Reception
Sponsored by the Mediation Association of Colorado
Location Information
CBA CLE East Classroom
1290 Broadway #1700
Denver, CO 80203
Get directions
Registration Fees
| | |
| --- | --- |
| Exhibitor Staff - Member | $319.00 |
| Non-Member | $319.00 |
| Exhibitor Staff - Non Member | $319.00 |
| CBA Member | $245.00 |
| CBA ADR Section Member | $196.00 |
| MDIC/MAC/COAFCC Members | $196.00 |
| MDIC/MAC/COAFCC Members | $196.00 |
| Nonprofit (Mediation program volunteer or staff) | $196.00 |
| CLE BASIC Pass Holder | $130.00 |
| New Lawyer Edge Partner | $122.50 |
| Public Service/Government | $122.50 |
| Legal Support Staff/Paralegal | $122.50 |
| Active Military | $122.50 |
| ODR Attorney | $100.00 |
| ODR Attorney | $100.00 |
| Student Currently Enrolled in Law School | $98.00 |
| CLE ELITE Pass Holder | $98.00 |
General Credits: 8.00
Ethics Credits: 1.50
EDI Credits:
To join the CBA or add a Section to your membership click