Advising Entrepreneurs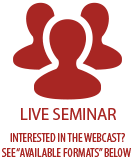 Advising Entrepreneurs
Co-sponsored by the Business Law Section of the Colorado Bar Association, and its New Lawyers Subsection
Program Highlights:
- Ethics – Alternative Fee Arrangements
Boulder, Colorado - Best Place to Start a Business in the U.S.
Denver, Colorado - Number 2 in the Top 12 Places in the U.S. to Launch a Start Up in 2014
You are in the heart of start- up company country and knowing how to address the special needs of the entrepreneurial client will serve you well. This program will help you to be better prepared for when the entrepreneur with the next big, sizzling idea walks through your door, and be better prepared when the long time successful entrepreneur now needs legal advice and comes to you.
Whether you are new to the business law arena, expanding your practice, or simply need a refresher to get up to date on advising entrepreneurs, this program will provide current and expert guidance on the issues, questions, and documents you will most likely encounter when representing the entrepreneur. Develop and fine tune the lawyering skills needed to better advise entrepreneurs and start- up companies.
Plus, the program materials will become a resource you reach for time and again when working with your entrepreneurial clients.
Registration and Continental Breakfast
Extended by Colleen R. Belak, Esq.
Structural Issues
- Unintended Partnerships
Presented by Ben Sparks Esq.
Social Enterprise
Presented by Patricia R. Rogers, Esq.
Raising Money
- Securities Law Implications (State and Federal)
- Retaining Control of the Company
- Finders and Broker-Dealers
- Crowdfunding and Private Placements
(3) The Colorado Crowdfunding Act
Presented by Herrick K. Lidstone Jr., Esq.
Protection of IP
- Identifying Intellectual Property Assets
- Protection Policies and Strategies
Presented by Jyoti Pandya, Esq., and Christina Saunders, Esq.
Contracts
- Adapting to the Trend Towards Leaner Contracts
- Electronic Signatures and the Uniform Electronic Transactions Act
Presented by Trevor Crow, Esq.
Ethics
- Accepting Equity as Payment
- Other Alternative Fee Arrangements
Presented by Sara Van Deusen, Esq.
Adjourn
Location Information
CLECI Large Classroom
1900 Grant Street, Suite 300
Denver, CO 80203
Get directions
Registration Fees
| | |
| --- | --- |
| Non Member | $329.00 |
| CBA Member | $299.00 |
| CBA Business Law Section Member | $249.00 |
| Paralegal/Legal Support Staff | $209.00 |
| New Lawyer - CBA Business Law Section Member; in practice < 5 years | $129.00 |
| CLEACCESSPASS--CLE ELITE Pass Holder | $0.00 |
| New Lawyer Edge Member | $0.00 |
General Credits: 6.00
Ethics Credits: 1.00