Representations and Warranties Insurance: Update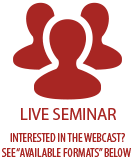 March 2018
Representations and Warranties Insurance: Update
Co-sponsored by the M&A Subsection of the CBA Business Law Section
Transaction liability products are here to stay! The use of representations and warranties insurance, along with tax insurance, litigation buyout insurance and contingent liability insurance are now routine in mergers and acquisitions. More and more, buyers and sellers alike are now strategically introducing the concept of representations and warranties insurance into their purchase and sale transactions. Attend this important program and learn the whys behind this best practice and the benefits to your clients. For example, buyers that rely on R&W insurance can gain a competitive advantage relative to other bidders in an auction process by offering a limited or no seller indemnity, and sellers can introduce the concept to ensure a cleaner exit or to backstop their indemnification obligations.
Don't Forget:
The M&A Breakfast CLE Series is also available via live Internet webcast, direct to your desktop!
Save These Dates for the Next M&A Breakfast CLE Program:
April 3 and May 1, 2018
7:30 AM – 8:00 AM
Registration and Continental Breakfast
8:00 – 9:00 AM
Representations and Warranties Insurance: Update
- Overview and Recent Developments
- Why Use?
- How to Best Use
- Benefits For Your Buying and Selling Clients
- … and More!
9:00 AM
Adjourn
Location Information
CLECI Large Classroom
1900 Grant Street, Suite 300
Denver, CO 80203
Get directions
Registration Fees
| | |
| --- | --- |
| Non Member | $59.00 |
| CLEACCESSPASS--ELITE Pass Holder | $0.00 |
| New Lawyer Edge Partner | $19.50 |
| CBA Member | $39.00 |
| CLEACCESSPASS--BASIC Pass Holder | $0.00 |
| CBA M&A Subsection Member | $29.00 |
| CBA Business Law Section Member | $29.00 |
General Credits: 1.00
Ethics Credits: 0.00
Sponsor Information
Overview and Recent Developments Regarding Representations and Warranties Insurance in Mergers and Acquisitions
How to Use Representations and Warranties Insurance for the Benefit of Your Buying and Selling Clients