The Legal Speaker Workshop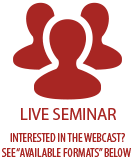 As an attorney, are tasked with many important presentations, from client meetings to business development to courtroom arguments . . .to continuing legal education presentations. Being an effective presenter isn't something you're born with. It involves specific techniques, which you can learn. How do you, as a speaker, make sure that your listener sees the same picture, and comes to the same conclusions, that you did about the information
From stage presence, to the sound of your voice, to the structure of your story, this workshop will help you use the tools that professional actors and directors use to paint a clear picture. You'll learn about the most common mistakes presenters make and the simple changes you can make to bring your presentations from good to great. As presenters, most people underestimate their strengths, and misjudge their weaknesses. This workshop will finally give you confidence – you'll know for sure what really works, what you do well, and where you should work to improve.
This dynamic seminar takes you beyond the usual "public speaking" classes to help you discover how to be the most credible, most persuasive person in the room. And you'll leave with clear techniques you can use immediately.
Then, you'll find out from experienced CLE program attorneys how to find speaking opportunities, submit clear and concise proposals,
SPEAKER WORKSHOP HIGHLIGHTS
How to Persuade Your Audience

Hear the Most Common Mistakes Presenters Make

How to Create an Excellent PowerPoint Presentation

Gain Commanding Stage Presence

Improve Your Credibility

How to Find Ideas for Engaging Topics

Learn to Submit a Clear Proposal

Speaker Guidelines
8:00 am - 8:25 am: Registration
8:25 am - 8:30 am: Welcome and Introduction
8:30 am - 9:20 am: The Actor's Secret
9:20 am - 10:10 am: Vocal Presentation Skills
10:10 am - 10:20 am: Networking Break
10:20 am - 11:10 am: Physical and Vocal Presence and PowerPoint Skills
11:10 am - Noon: Getting Started as a Speaker: A Panel of experienced program attorneys and CLE speakers will talk about what you need to get started and their own experiences
Submitting Topics and Proposal

How I Got Started as a Speaker - The Panel Speaks

Options for Speaking: Co-presenting and Speaker Panels

Q&A
Then adjoin to the complimentary lunch after the program!
Location Information
CLE Large Classroom


Get directions
Registration Fees
| | |
| --- | --- |
| Member of the CBA or any Specialty/Diversity Bar Association | $99.00 |
| New Lawyer Edge Partner | $0.00 |
| CBA-CLE Elite Pass Holder | $0.00 |
| Non-Member of CBA or Diversity Bar | $159.00 |
General Credits:
Ethics Credits: