33nd Annual Estate Planning Retreat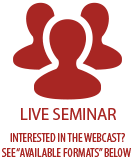 REGISTER BY PHONE ONLY - NO ONLINE REGISTRATION FOR THIS EVENT

Call
303-860-0608
to register
33nd Annual Estate Planning Retreat
It has been a year of change in the practice of trust and estate law.
Nowhere else but the
33
rd
Annual Estate Planning Retreat
will you have the opportunity to discuss the highlights and nuances of these changes with some of the most experienced and knowledgeable trust and estate practitioners.
The Retreat will be held on June 13-15 at the newly renovated Westin Resort in Snowmass. Co-sponsored by the Trust and Estate Section of the Colorado Bar Association and CBA-CLE, the Retreat has become a time-honored institution among Colorado trust and estate practitioners.
After the advanced interactive discussion groups in the morning, you'll have the rest of each day to enjoy everything this area of the Rocky Mountains has to offer: hike the Maroon Bells, explore Aspen, play a round of golf … the possibilities are limitless!
Don't miss the opening plenary session with
Tom Stover
on-
"Will the Tax Tail Still Wag the Estate Planning Dog?"
You'll also hear
Keynote Speaker Joshua Rubenstein
on-
"Estate Planning for Unmarried Couples: Detriment or Opportunity?"
Retreat tuition includes course materials (printed book, flash drive or digital download), admission to the entire Retreat, admission to the Welcome Reception on Thursday, June 13, and the Wine Tasting on Friday, June 14.
NEW THIS YEAR:
All attendees will receive the course materials digitally via email. If you wish to receive your materials via email
ONLY
(no printed book and no flash drive), please select this option on the registration form. Your tuition for this option is
$30 LOWER
than the option to receive the printed book or flash drive via UPS.
*
Space is limited,
call (303) 860-0608 to
register today!
PROGRAM CO-CHAIRS
Spencer Crona, Esq.
Brown and Hulbert, LLC
Denver, CO
Walter Kelly II, Esq.
Miller & Steiert, PC
Littleton, CO
FACULTY
Theodore Atlass, Esq.
Atlass Professional Corporation
Denver, CO
Stephen Brainerd, Esq.
Davis Graham & Stubbs, LLP
Denver, CO
Elizabeth Bryant, Esq.
Elizabeth A. Bryant, PC
Denver, CO
Kelly Dickson Cooper, Esq.
Holland & Hart, LLP
Denver, CO
John DeBruyn, Esq.
DeBruyn Law Offices
Denver, CO
Erica Johnson, Esq.
Ambler & Keenan, LLC
Denver, CO
Shelly Merritt, Esq.
Shelly Merritt, PC
Boulder, CO
Dylan Metzner, Esq.
Hamilton Faatz and Waller, PC
Greenwood Village, CO
Kevin Millard, Esq.
Chorney & Millard, LLP
Denver, CO
Ronald Nemirow, Esq.
Kennedy Childs, PC
Denver, CO
Daniela Ronchetti, Esq.
BakerHostetler, LLP
Denver, CO
Joshua Rubenstein, Esq.
Katten Muchin Rosenman, LLP
New York, NY
C. Jean Stewart, Esq.
Holland & Hart, LLP
Denver, CO
Michael Stiff, Esq.
BakerHostetler, LLP
Denver, CO
Thomas Stover, Esq.
Stover & Spitz, LLC
Longmont, CO
Dennis Whitmer, Esq.
Hamilton Faatz and Waller, PC
Greenwood Village, CO
Hotel Information:
June 13 -15, 2013
Estate Planning Retreat Headquarters and Accommodations:
Westin Snowmass Resort
100 Elbert Lane
Snowmass Village, CO 81615
2013 RETREAT SPONSORS:
Special thanks to our 2012 Sponsors confirmed to date:
GOLD LEVEL
- ANB Bank
- Bank of the West
- Colorado State Bank and Trust
- Wells Fargo
SILVER LEVEL
- The Denver Foundation
- Fidelity Charitable
- Foundation Source
- Investment Trust Company
- JAMS
BRONZE LEVEL
- Dumb Friends League
- Gibraltar Business Appraisals, Inc
- Investors Independent Trust Company
- Lawgic, LLC
- The Private Client Reserve of U.S. Bank
- South Dakota Trust Company LLC
- Steele Street Bank & Trust
- Vi at Highlands Ranch
- WealthCounsel
Location Information
Westin Snowmass Resort
100 Elbert Lane
Snowmass Village, CO 81615
Get directions
Registration Fees
| | |
| --- | --- |
| Non Member (emailed materials) | $399.00 |
| CBA Member (emailed Materials) | $369.00 |
| Trust & Estate Section Member (emailed materials) | $339.00 |
| New Lawyer (emailed materials) | $269.00 |
| CLEACCESSPASS | $169.00 |
General Credits: 8.00
Ethics Credits: 1.00