Highly Contested Issues in Wrongful Death Litigation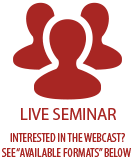 March 2011
Highly Contested Issues in Wrongful Death Litigation - LIVE IN DENVER
Each attendee will receive a copy of the CBA-CLE book
Handbook of Colorado Wrongful Death Law, 2nd Edition
with this course! For more information about the book,
click here
.
Program Topics:
Case Law Update and Statutory Changes-Standing, Causation, and Damages:
C.R.S. §§ 13-21-201(1)(a)(I) and 15-22-105-Designated Beneficiaries
Limitations on damages under § 13-21-203(1)
Inflation adjustments made pursuant to § 13-21-203.7(1)(a)
Limitations for decedents leaving neither a widow, widower, minor children nor dependent father or mother
Limit on recovery of damages under the CGIA
Statutory cap on non-economic damages
Non-admissibility of decedent's future income tax liability in calculating net pecuniary loss
Damages limitations for actions brought under the Ski Safety Act
Child born alive is a "person" for purposes of the WDA
Why wrongful death actions are not assignable
Proximate causation in suicide case
Prejudgment interest as an element of damages
Highly Contested Issues in Wrongful Death Litigation
Lifting the statutory cap on non-economic damages - Litigating claims of felonious killing:
What is a felonious killing?
How is a felonious killing determined?
Prosecuting and defending against felonious killing claims.
Resolving conflicting claims for the proceeds of a wrongful death action:
General principles regarding distribution of proceeds of a wrongful death action;
Litigating claims by a purported common law spouse;
Conflicting claims of a purported common law spouse and the decedent's minor child(ren); and,
How to properly resolve claims of minor children.
Apportionment of fault in wrongful death cases involving intoxicated drivers - comparative negligence of the decedent and fault of designated non-parties for violation of the Dram Shop Act.
Liability for furnishing minors alcoholic beverages or a place to consume alcoholic beverages;
Negligence of decedent for riding with intoxicated driver.
Strategies for maximizing and mitigating damages in wrongful death actions.
Continued viability of the net pecuniary loss rule;
How to maximize/minimize the net pecuniary loss;
How to maximize/minimize non-economic damages.
Program Agenda:
8:00 - 8:30 am Registration & Continental Breakfast
8:30 - 10:00 am Programming
10:00 - 10:10 am Networking Break
10:10 - 11:45 am Programming
11:45 - 12:30 pm Lunch Break (lunch provided)
12:30 - 2:00 pm Programming
2:00 - 2:10 pm Networking Break
2:10 - 3:00 pm Programming
3:00 pm Adjourn
Faculty:
Gregory R. Giometti
Gregory R. Giometti & Associates
Gregory Giometti graduated from the University of Oregon in 1979 with a bachelor's degree in history. He then attended the University of Idaho College of Law, obtaining his J.D. degree in 1982 and becoming licensed in Idaho in September 1982. After law school, he clerked for the Idaho Court of Appeals for a year and then began practicing with a Boise insurance defense firm, Quane, Smith, Howard and Hull. In October 1987, he was admitted to the bar in Colorado and began practicing law in Denver. For more than 20 years in Colorado, Mr. Giometti has concentrated his practice in the area of insurance defense litigation, but he also handles some plaintiffs' cases, particularly wrongful death, probate, and health and disability insurance matters. Since October 6, 2006, Mr. Giometti has practiced with his own firm in Denver, Gregory R. Giometti & Associates, P.C. He has conducted more than 50 civil jury trials in Colorado district courts and has also handled numerous appellate matters. He is one of Colorado's most experienced attorneys in handling insurance bad faith and wrongful death litigation. Since 1996, Mr. Giometti has published numerous works for Continuing Legal Education in Colorado, Inc., the non-profit educational arm of the Colorado Bar Association. Mr. Giometti's publications include Colorado Law of Insurance Bad Faith (3rd Ed. 2009); Colorado Automobile Accident Litigation & Insurance Handbook (2007); and Colorado Handbook of Wrongful Death Law (2nd Ed., Supp 2010).
Franklin D. Patterson
Patterson, Nuss & Seymour, P.C
Frank Patterson, the senior partner at PNS, is widely acknowledged as one of the premier trial lawyers in Colorado. He has tried more than 100 jury trials with great success. Mr. Patterson has been lead counsel in numerous high-profile appeals which created or changed Colorado Law. Besides serving in numerous legal organizations, he was elected to prestigious memberships in the American Board of Trial Advocates and the International Associate of Defense Counsel. A sought-after speaker, he makes presentations locally and internationally to lawyers, judges and insurance companies. With the American Board of Trial Advocates, he has met with leaders of the legal profession in Ireland, Portugal, Hong Kong, and New Zealand. In a survey by the Denver Business Journal he was voted "Best in the Bar" among Personal Injury Litigation/Defense attorneys in Colorado. For several years now he has been selected as a Colorado Super Lawyer. Frank has taught in nationally-recognized Masters in Trial Seminars, and at the National Institute of Trial Advocacy, educating lawyers in the art of trial work. He has also lectured on many occasions to insurance companies and lawyer organizations. He has worked with the Colorado Legislature on bills affecting the legal profession and insurance industry. Frank received his BA from Earlham College in 1978. While at the University of Denver he earned his JD in 1981 and a Masters in Judicial Administration in 1982. Member - Arapahoe, Colorado and American Bar Associations; Defense Research Institute; Colorado Defense Lawyers Association - President 1994-95; American Board of Trial Advocates - President, Colorado Chapter 2001-2002; International Association of Defense Counsel.
VIDEO REPLAY: April 1, 2011 ❏
Denver: CBA-CLE Classroom, 1900 Grant Street, Suite 300 ❏
Colorado Springs: 421 S. Tejon Street, Suite 100 ❏
Grand Junction: 1250 E. Sherwood Drive
Location Information
CLECI Large Classroom
1900 Grant Street, Suite 300
Denver, CO 80203
Get directions
Registration Fees
| | |
| --- | --- |
| Non Member | $339.00 |
| CBA | $289.00 |
| LITIG | $259.00 |
| CBA Associate Mbr | $239.00 |
| New Lawyer > 2yrs | $239.00 |
General Credits: 7.00
Ethics Credits:
EDI Credits:
To join the CBA or add a Section to your membership click