Foreclosure Law in Colorado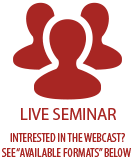 September 2017
Foreclosure Law in Colorado
Co-sponsored by BOOKS IN ACTION
- Public Trustee Foreclosures
- Bankruptcy Issues in Foreclosure
- Federal Regulatory Issues in Foreclosure
- Deeds in Lieu and Workouts
Class Materials: Foreclosure Law in Colorado, 1st Edition. Richard H. Krohn, Esq., Managing Editor
Colorado has a unique foreclosure process because, unlike many states, each county has a designated public trustee who facilitates foreclosures. Public trustee foreclosures make up the vast majority of real property foreclosures in Colorado because they are generally simpler, less expensive, and less time-consuming than the alternative, judicial foreclosure.
Learn about not only Colorado's unique public trustee foreclosure process from start to finish, and the expedited Rule 120 judicial proceeding that together are used in the vast majority of foreclosures in Colorado, but also hear discussion of the alternatives of judicial foreclosure, deeds in lieu of foreclosure and workout agreements. Additional topics include receiverships, the effect of tax liens and bankruptcy on foreclosures and federal regulations that impact foreclosures. Taken together, this program and related written materials will give you a thorough picture of real property foreclosure in Colorado.
CBA-CLE Publications to Watch For:
Colorado Real Estate Practice
, 2017 Edition ZCREPB17B
Colorado quiet Title Actions
, Third Edition ZCQTAB16B
Registration and Continental Breakfast
Public Trustee Foreclosures
Presented by Richard H. Krohn, Esq., and Jill Norris, Esq.
This segment will present an overview of public trustee foreclosure law and discuss selected issues practitioners may encounter during that process.
Presented by Frederick B. Skillern, Esq.
-Why is Rule 120 controversial?
-The history of the rule; why is Colorado unique in its foreclosure practice?
-Foreclosure defense strategies examined
-Proposed changes to the rule
Federal Regulatory Issues in Foreclosure
Presented by Deanne Stodden, Esq.
The Servicemembers' Civil Relief Act must be complied with in any foreclosure, whether through the public trustee or judicial, if the foreclosure is against an individual. The Fair Debt Collections Practices Act (both the Federal Act and the Colorado corollary) impact certain attorneys that fall within the definition of a debt collector. Finally, the Consumer Financial Protection Bureau mortgage servicing rules impact mortgage servicers, but it is helpful for attorneys that represent servicers and borrowers to be familiar with the CFPB rules. This segment will highlight some of the provisions of each of these Federal regulations and/or laws.
Presented by Geoffrey Anderson, Esq.
Public trustee foreclosures work well for foreclosing most deeds of trust. But what happens when things get sticky? In this segment we'll discuss:
-When a judicial foreclosure is the right choice
Receiverships — Nuts and Bolts for Practitioners
Presented by Robert Brown, Esq
.
Learn the basics of the whys and hows of selecting and appointing a receiver, how receivers operate, and their powers and responsibilities. Explore unique situations where a receiver can be an invaluable tool. Learn to navigate special receivership situations including bankruptcy, asset vs. entity receivers, UCC issues, and receiver borrowing. Can a receiver really do that? See the big picture; mine valuable nuggets!
Foreclosures Involving Tax Liens
Presented by William Frey, Esq.
Topics to be discussed include the impact of federal tax liens upon Colorado foreclosure:
-Starting the Foreclosure
Foreclosure and Bankruptcy
Presented by Hon. Kimberley Tyson and Deanna Westfall, Esq.
-What is the difference between the different types of bankruptcy filings?
-What is the automatic stay and how does it affect creditors?
-How are payment terms determined in bankruptcy?
-What is included in "Property of the Estate"?
-What happens when the Trustee asserts claims against Creditors?
-How do dismissal and discharge affect the debtor-creditor relationship?
Workouts and Deeds in Lieu of Foreclosure
Presented by Bill Kyriagis, Esq.
Issues with troubled loans can sometimes be resolved by agreement between a lender and borrower. Workout arrangements can take a variety of forms, depending on the circumstances. Deeds in lieu of foreclosure can come into play where surrender of the real property security is a part of the deal. These topics will be addressed in an overview of loan workouts and deeds in lieu of foreclosure.
Location Information
CLECI Large Classroom
1900 Grant Street, Suite 300
Denver, CO 80203
Get directions
Registration Fees
| | |
| --- | --- |
| Non Member | $498.00 |
| CBA Member | $448.00 |
| CLEACCESSPASS---ELITE Pass Holder | $109.00 |
| New Lawyer Edge Partner | $224.00 |
| CLE Basic Pass Holder | $109.00 |
General Credits: 7.00
Ethics Credits: