Orange Book Forms: Colorado Estate Planning Forms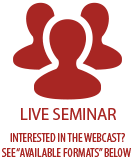 December 2017
Orange Book Forms: Colorado Estate Planning Forms
At the end of this program, you will better understand:
- How to Begin — Client Intakes and Engagement Letters
- Estate Planning – Use of Wills and Trusts
- Ancillary Documents — Powers of Attorney, Pourover Wills, and More
- Funding Trusts
- Planning for Special Situations
…And more!
Program Description:
In the 1970s, a group of estate planning attorneys compiled several frequently-used forms into what was then called The Orange Book. This book has evolved through the years, and is now the go-to book for Trust & Estate attorneys in Colorado. Through the years, the book has evolved to continue to meet the needs of estate planning attorneys. The Eighth Edition of Orange Book Forms contains the most dramatic evolution yet: the entire book was redesigned in order to be more user-friendly!
You will receive a copy of the brand new edition of Orange Book Forms, formally known as Orange Book Forms: Colorado Estate Planning Forms, Eighth Edition. This full-day program will go through the new Eighth Edition of Orange Book Forms, cover-to-cover. Members of the CBA Trust & Estate Section's Orange Book Forms Committee will discuss the various forms and how you can use them in your day-to-day practice. The day will close with a panel discussion by committee members giving practical tips as to how they use the book in their practices. Don't miss this informative program!
Registration and Continental Breakfast
Presented by Peggy Gardner, Esq.
Then and Now: History of Orange Book Forms and Looking Forward
Presented by Frank Hill, Esq
.
The Orange Book was developed in the 1970s as a sheaf of forms commonly used in the estate planning practice. Through the years, it has evolved into a full treatise with forms for many estate planning situations. The book has never been reformatted—until now. Learn about how the design of the book will help attorneys learn from the moment they open the cover.
Getting Started: Client Questionnaires, Initial Intake, and Engagement Letters
Presented by Barb Cashman, Esq., and Kate Boland, Esq.
Each estate plan is different, and the entire estate plan can change based on information learned in the first contacts with the client. Learn about tools for designing client-based estate plans.
Drafting for the Client's Goals
Presented by Peggy Gardner, Esq.
Choosing the appropriate will or trust for the client's situation is at the heart of estate planning. Learn how to choose the appropriate tool for the client's unique circumstances.
Ancillary Documents: Powers of Attorney, Pourover Wills, and More
Presented by Elizabeth Meck, Esq.,
and Tim Bounds, Esq.
Wills and trusts are the "meat" of an estate plan, but ancillary documents are vital to ensuring the client's wishes are carried out. Learn about both financial and medical powers of attorney, pourover wills, documents to protect minor children and protected persons, and more.
Presented by Bette Heller, Esq.
An unfunded trust can leave an estate plan incomplete. Learn how to use ancillary documents to fund your client's trust, and how to approach the issue of trust funding with your client.
Presented by Susan Boothby, Esq.
Gifting is an important element to many estate plans. Learn how to utilize special powers of attorney and other tools to achieve your client's gifting goals.
Planning for Specific Assets
Presented by Gordon Williams, Esq.
Oil and gas interests, farms and ranches, S corporations, and qualified domestic relations all require special drafting techniques. Learn how to draft for special situations not encountered in every estate plan.
Panel: Top Tips and Tricks for Using Orange Book Forms
Moderated by Peggy Gardner, Esq.
Panelists: Alison Leary, Esq., M. Anthony Vaida, Esq., Lisa Willcox, Esq., Heidi Gassman, Esq.
Orange Book Forms is a staple for the estate planning attorney's library. Learn how attorneys from various backgrounds and with varied practice experience use Orange Book Forms in their day-to-day practice.
Location Information
CLECI Large Classroom
1900 Grant Street, Suite 300
Denver, CO 80203
Get directions
Registration Fees
| | |
| --- | --- |
| Non Member | $638.00 |
| CBA Member | $598.00 |
| CLEACCESSPASS--ELITE Pass Holder w/ printed book | $259.00 |
| New Lawyer Edge Member | $299.00 |
| BASIC PASS HOLDER w/ printed book | $259.00 |
General Credits: 7.00
Ethics Credits: 0.00