A Comprehensive Approach to Negotiating - The Right Tactics at the Right Time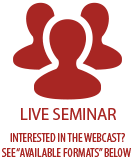 May 2017
A Comprehensive Approach to Negotiating - The Right Tactics at the Right Time
With the Honorable Russell Carparelli: Mediator, Innovator, Judge, Leader, Lawyer
Program Highlights:
- A Comprehensive Approach to Negotiations in a Nutshell
- The Right Tactics at the Right Time
- Negotiator Styles and Ethics
Program Description:
Every aspect of transactional and litigation law practices involves negotiation – from negotiating transactions to resolving disputes that occur during implementation and operations, to negotiating the pre-trial litigation process to negotiating settlements and participating in mediation. Being an effective negotiator in all aspects of legal practice can mean the difference between success and failure. This is precisely why attending Judge Russell Carparelli's Negotiating Skills program on May 18 is a part of taking your practice to the next level.
In just one day, you will get a comprehensive approach to negotiations. You will discover the most effective negotiation paradigm and the roles that values and emotions play. As part of your tuition, you will take the Kraybill Conflict Style Inventory to determine your negotiating style. You will find out about the five most common negotiating styles, and the strengths and weaknesses of each style when paired with other styles.
Did you know there are predictable stages of negotiations? Learn the challenges of each stage, the best tactics for each stage, and how to use the right tactics at the right time in order to reach an agreement that all parties are satisfied with.
You will spend the day learning these skills, tips and techniques with Russell Carparelli, a nationally known judge, mediator, innovator, and leader.
Registration and Continental Breakfast
A Comprehensive Approach to Negotiations
- Decisions, Decisions, Who's Making Decisions?
- How to Influence People Without Making Friends
The Right Tactics at the Right Time
- The Predictable Stages of Negotiations
- Closing and Preserving the Agreement
Negotiator Styles and Ethics
- Style Strengths and Dangers
Bargaining and Closing the Deal
- Distributive Bargaining Isn't Win-Win
- Tactics & Skills: Anchoring, Authority, Bogey, Bulwarism, Creative Currency, Deadlines, Fostering Doubt & Risk, Influencing BATNA, How to Say Yes, Log-rolling, Nibbling, Time Value of Money
Location Information
CBA-CLE Large Classroom
1900 Grant Street, Suite 300
Denver, CO 80203
Get directions
Registration Fees
| | |
| --- | --- |
| Non Member | $349.00 |
| CBA Member | $309.00 |
| CLE ELITE Pass Holder | $0.00 |
| CBA Litigation Section Member | $269.00 |
| New Lawyer Edge Partner | $154.50 |
| CBA Business Law Section Member | $269.00 |
| CBA Elder Law Section Member | $269.00 |
| CBA Family Law Section Member | $269.00 |
| CBA Labor & Employment Law Section Member | $269.00 |
| CBA Real Estate Law Section Member | $269.00 |
| CBA Trust & Estate Law Section Member | $269.00 |
General Credits: 7.00
Ethics Credits: 1.00
Sponsor Information
Spend the Day with the Honorable Russell Carparelli: Mediator, Innovator, Judge, Leader, Lawyer
A Comprehensive Approach to Negotiations, Including Framing, Decision Making and Bargaining Tactics
Your Tuition Includes the Kraybill Conflict Style Inventory, a Test That Identifies Your Style of Responding to Conflict