Better Motion Practice - How to Argue, Present and Write Motions More Effectively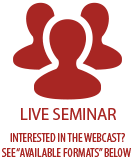 Better Motion Practice - How to Argue, Present and Write Motions More Effectively
Co-sponsored by the CBA Litigation Section
This "how to" argue, present, and write motions program is designed for lawyers who want to learn techniques to sharpen their skills by providing a practical overview of various kinds of motions you will likely encounter in pre-trial civil practice. You will learn specific techniques, skills and methods for persuading the court and decision-makers. The program will generally reference state and federal rules of procedure and evidence.

Newer lawyers will gain a better understanding of the kinds of motions available, and more experienced lawyers will learn how to be more effective, including in your use of technology in your presentations and arguing of motions.
You will learn how to:
- Draft and organize better briefs and exhibits
- Make more concise and persuasive arguments
- Present persuasive arguments using technology
- Be better prepared to argue and defend the most common pre-trial motions
Here's What Your Colleagues Have Said about Justin S. Kahn:
"… great at bringing concepts together to show people how they are actually used in practice"
"… a wealth of knowledge"
"… on a rating of 1-5 with 5 as the highest, Justin Kahn is 5+ as a speaker"
Registration and Continental Breakfast
- Brief Review of Relevant Rules of Procedure and Evidence
- Kinds of Motions Generally
- Goals of Motions Generally
- Resources (Judicial and
O
thers)
- Scheduling and Case Management Orders
Threshold Motions – Attacking the Pleadings, Jurisdiction, Venue, Amendment, and Parties
- Researching and Arguing
- Example Motions, Materials, Arguments
Discovery Motions — Enforcing Discovery and Seeking Protection
- Review of Relevant Rules
- Discovery Motion Examples
- Subpoena Quash, Enforcement
Effective Motion Practice —Effective Methods of Creating and Presenting Motions, Use of Technology, Charts, Exhibits
- Techniques for Presenting and Persuading
- Use of Technology and Blowups
- Drafting and Organizing Effective Motions and Supporting Documents
Pre-Trial Motions Directed to the Merits and Trial
- Experts (Limiting/Excluding)
- Summary Judgment (Presenting and Defending)
Views from the Bench and Interactive Roundtable Discussion: Judicial Perspectives of
Honorable Randall C. Arp, 1st Judicial District Court,
Honorable Robert L. McGahey Jr., 2nd Judicial District Court, Honorable D.D. Mallard, 20th Judicial District Court,
and the Honorable Elisabeth Weishaupl, 18th Judicial District Court,
On:
- What to Do, and Not to Do, in Your Motion Practice
Location Information
CLECI Large Classroom
1900 Grant Street, Suite 300
Denver, CO 80203
Get directions
Registration Fees
| | |
| --- | --- |
| Non Member | $349.00 |
| CBA Member | $299.00 |
| CBA Solo Small Firm Section Member | $269.00 |
| Paralegal/Legal Support Staff | $249.00 |
| CLEACCESSPASS---ELITE Pass Holder | $50.00 |
| New Lawyer; in practice 5 years or less | $249.00 |
| CBA Litigation Section Member | $269.00 |
General Credits: 7.00
Ethics Credits: 0.00
Sponsor Information
Experienced Lawyer in Denver on April 17

National Lecturer provides the "how to's" of preparing, presenting and arguing motions.

Hear a Practical Overview of Various Kinds of Motions Likely to be Encountered in Pre-trial Civil Practice

Motion Practice Program Designed for Both Newer Lawyers and the More