Elder Law in Colorado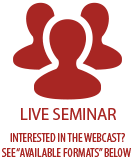 October 2017
Elder Law in Colorado
Sponsored by Books in Action
Elder law clients come to attorneys for many reasons, including estate planning, guardianships and conservatorships, concerns about Medicare or Medicaid, and more. This full-day program will provide an overview of the most commonly encountered scenarios for the elder law practitioner. Learn the basics of elder law and obtain the tools to assess, preserve and protect your client's rights.
Each class attendee will receive a copy of the CBA-CLE handbook, Elder Law in Colorado, Fifth Edition. Elder Law in Colorado is a comprehensive desk reference for attorneys who may be either new or experienced in the field of elder law. It is intended to carry on the tradition of being an important resource for elder law practitioners throughout Colorado. The book is the culmination of an incredible amount of time and effort by our authors, who represent some of the finest elder law attorneys, both in Colorado and the nation.
CBA-CLE Publications to Watch For:
Colorado Probate System
, Fifth Edition ZCPSYS15B
Wade/Parks: Colorado Law of Wills, Trusts, and Fiduciary Administration, Eighth Edition ZWPCLB17B
Registration and Continental Breakfast
Introductions
Presented by Marco Chayet, Esq., and D. Wayne Stewart, Esq.
Estate Planning – Use of Wills
Presented by Arlene Barringer, Esq.
Estate Planning – Use of Trusts
Presented by Bradley Frigon, Esq.
Guardianships and Conservatorships
Presented by M. Carl Glatstein, Esq.
Networking Break
Uniform Adult Guardianship and Protective Proceedings Jurisdiction Act
Presented by Catherine Seal, Esq.
Special Needs Trusts
Presented by Marco Chayet, Esq. and Frank Danzo, Esq.
Supplemental Care Trusts, Disability Trusts, and Discretionary Trusts
Presented by R. Eric Solem, Esq.
Medicaid – Eligibility for Long-Term Care
Presented by Shari Caton, Esq.
Medicaid – Spousal Impoverishment
Presented by Rebecca Shandrick, Esq.
Medicare and Medigap
Presented by Ayodele Labode, Esq.
Networking Break
Social Security and Colorado Disability Benefits
Presented by Bruce Bernstein, Esq.
Representing the Client with Diminished Capacity
Presented by Patrick Thiessen, Esq.
Financial Exploitation of the Elderly
Presented by D. Wayne Stewart, Esq.
Ethical Considerations
Presented by Charles Connell, Esq.
Adjourn
Location Information
CLECI Large Classroom
1900 Grant Street, Suite 300
Denver, CO 80203
Get directions
Registration Fees
| | |
| --- | --- |
| Non Member | $618.00 |
| CBA Member | $578.00 |
| New Lawyer Edge Partner | $289.00 |
| CLE ELITE Pass Holder | $239.00 |
| CLE Basic Pass Holder | $239.00 |
General Credits: 7.00
Ethics Credits: 0.05