11th Annual Colorado ADR Conference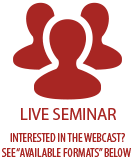 Novermber 2017
11th Annual Colorado ADR Conference
Live Only!
Program Description:
Colorado's 11th Annual ADR Conference presents a wide array of topics and techniques for the ADR practitioner. Come to challenge your thinking, expand and improve your skills and connect with colleagues.
Register for this LIVE ONLY seminar today!
2017 ADR Sponsors
- The Mediation Association of Colorado
- Office of Dispute Resolution, Colorado Judicial Branch
- Colorado Bar Association Alternative Dispute Resolution Section
Conference support and administration provided by CBA-CLE
Special Thanks to Our 11th Annual ADR Conference Sponsors!
Conflict Resolution Institute | University of Denver
AB Conflict Resolution Services
CBA/DBA Court Mediation Services
Conflict Resolution Month in Colorado
Sponsorship opportunities are still available!
For more information, please contact
Melissa Higham
at
mhigham@cobar.org
Registration and Continental Breakfast
Housekeeping Announcements
Welcome & Opening Remarks
Marianne Lizza-Irwin, Esq., Chair, CBA DR Section, Foothills Mediation and ADR, Golden, CO
ADR and Access to Justice
William Hood and Richard Gabriel will discuss the important role that alternative dispute resolution plays in ensuring access to justice for all and outline the significant initiatives occurring in Colorado to promote access to justice.
-Honorable Justice Richard Gabriel,
Colorado Supreme Court
-Honorable Justice William Hood, III,
Colorado Supreme Court
9:30am - 10:45am 1.4 Ethics Credit
Mediation Ethics
Challenging ethical dilemmas frequently arise during mediation. A skilled practitioner must recognize such issues promptly and be prepared to assess the situation and respond appropriately. A panel of seasoned professionals will address several ethical scenarios. Audience participation is encouraged.
Panelists: Monica Lichtenberger, Phoenix Strategies, Colorado Springs, CO; Steve Choquette, Esq., Choquette & Hart LLP, Denver, CO; Helena Goldstein, Esq., Jefferson County Mediation Services, Golden, CO; and Paul Teven, CPCC, Mediation & Coaching Services, Boulder, CO
Presented by The Ethics Committee of the Mediation Association of Colorado:
Richard Fullerton
, Constructive Options, Denver, CO
Susan Demidovich, Esq.,
Attorney/Mediator, Office of Dispute Resolution, Independent Contractor, Denver CO
Katherine Head, MSW, Private Mediator, Center for Solutions, Denver, CO
Joel Bogen, Conflict Resolution Works!, Denver, CO
BREAKOUT SESSIONS 1-5. PLEASE CHOOSE A SESSION TO ATTEND:
Everything You Ever Wanted to Know About Colorado Law on Mediation
What is the statutory and case law framework for Colorado mediations? What are the relevant court rules? When do you really have an enforceable mediation settlement? What parts of mediation are confidential? What are some ethical issues and pitfalls?
Presented by
Steven Choquette, Esq.,
Attorney-Mediator, Choquette & Hart LLP, Denver, CO
Presentation Title: Talkin' 'Bout My Generation: Best Practices for Mediating with Multiple Generations
This session will explore best practices for dealing with generational issues as they arise in mediation. The presentation will discuss the characteristics of the five generations, and discuss the challenges mediators face when working with multiple generations, with a panel discussion from mediators representing four generations.
Presented by Helena Jo Goldstein, JD, OvalOptions, Denver, CO
Panel Members: Larry Cerrillo, B.S., M.S.; Mark S. Loye, M.S., M.P.A.; Karen Lest, and Rachel Johnson
Differences Between Arbitration and Courthouse Litigation - Myth and Reality
Arbitration is not necessarily the best way to resolve commercial disputes. There are significant differences between a jury trial and an arbitration, both procedurally and substantively. This panel will discuss the myths and realities about salient procedural and economic differences between arbitration and conventional litigation in various practice areas.
Presented by
Edwin Aro, Esq.
, Arnold & Porter LLP, Denver, CO,
Gary Blum, Esq.
, Silver & DeBosky, PC, Denver, CO, and
Thomas Haskins, Esq.
, Silver & DeBosky, PC, Denver, CO
Lightning Round Topics:
Mediation/ADR Practices in Colorado Courts Guide
Come hear about the draft Mediation Best Practices Guide for Use in the Colorado Courts, a project sponsored by the Office of Dispute Resolution of the State Court Administrator's Office and the Colorado Judicial Institute. The purpose of this project is to formulate and publish policies, guidelines, and practical tools to be used by the bench, bar, and ADR professionals for court-ordered mediation.
Presented by Sharon Sturges, Director, Office of Dispute Resolution, State Court Administrator's Office, Colorado Judicial Branch
Colorado Legal Help Center
Dan Cordova, Colorado Supreme Court Librarian and Interim Executive Director, Colorado Legal Help Center, will provide an update on the Colorado Legal Help Center, which is an on-line website to assist self-represented litigants.
P
resented by
Daniel Cordova
, Colorado Supreme Court Library, Denver, CO
2017 Legislative Update
Jeremy Shupach, CBA Director of Legislative Relations, will provide conference participants with an update from the 2017 legislative session of legislation impacting ADR."
Presented by Jeremy Schupbach, Director of Legislative Relations, Colorado and Denver Bar Associations, Denver, CO
Mediation Preparedness Training
This presentation is based on a combined 50 years of mediation experience from both the plaintiff and defense perspectives. We will arm attendees with checklists, outlines and consideration related to:
- The structuring of mediation memoranda
- Overcoming case hurdles and settlement impediments
- Evaluations and demands
- Client preparation and expectations
- Miscellaneous jurisdictional issues
Presented by Geri O'Brien Williams, Esq., and Steven G. York, Esq., Dworkin, Chambers, Williams, York, Benson & Evans, P.C., Denver, CO
Networking Buffet Lunch - Ticketed Event (Please indicate on the registration form if you plan to attend the luncheon.)
BREAKOUT SESSIONS 6-9. PLEASE CHOOSE A SESSION TO ATTEND:
Family Law Mediations: Knowing Your Limits
This session is designed to educate mediators of the pitfalls and limitations of applicable statutes in family law matters. Further, it will provide mediators with a checklist of topics to address, and give some insight into areas that domestic relations practitioners see most litigated and most contentious.
Presented by
Carrie Eckstein, Esq.,
Kelly Lynch, Esq.
, and
Jennie Wray, Esq.
, Partner, The Harris Law Firm, P.C., Evergreen, CO
Cutting Up an Ox - Mastery and the Art of Mediation
What does mediation mastery look like? The worrisome fact is our profession still struggles with establishing a truly compelling vision of mastery: one that can guide our profession in realizing its greatest potential. This program seeks to craft a vision of mediation mastery by mining the collective wisdom of participants. There are many significant problems facing humanity: war, poverty, violence, hunger, disease, oppression, inequality, etc. The most significant obstacles that keep humanity from solving these problems are not technical. We have the resources and know-how to feed, house, and educate everyone. Everyone could live a meaningful life free of want and fear. That we don't do better is a travesty. The primary obstacle that stands in the way of humanity's lasting success is relational. Success will only be realized through learning better ways to live and work together. That is why what we do as mediators is so important. We spend our lives exploring how to effectively and ethically resolve conflicts. The world needs what we've learned through our training and practices. However, as mediators, we haven't done a very good job at sharing what we know. We need to get much better at spreading the wisdom that we've learned though our work. The first step is to codify our knowledge into a compelling vision of healthy human relationships and masterful conflict resolution. That is the goal of this program.
Presented by
Hugh Young
, The Mediation Practice of Hugh Young, LLC, Salida, CO
Session 8: 1.5 Ethics Credits
Multidisciplinary Professionalism in Mediation: Navigating the T-junction of Attorney-Mediators, Non-attorney Mediators, and Attorney-Advocates
In mediation, attorney-mediators, non-attorney mediators and attorney-advocates are under ethical obligations to practice with competence, i.e., each must apply respective best practices. Whose professional standard gets the "right of way"? How does this ethical tension influence mediation outcomes? This discussion explores ways to navigate through competing ethical obligations in mediation.
Presented by
Wesley Parks, Esq.,
Cohen & Cohen PC, Denver, CO, and
Alexa Sample, J.D., Executive
Director, Peace Partners, Mediator, Mountain States Conflict Resolution, Woodland Park, CO
Top 13 Questions Mediators Ask About the Interaction of Colorado Marijuana Laws, Workers' Compensation, Wrongful Discharge and Unemployment Compensation
With a humorous yet intellectually rigorous analysis, this program describes the nexus between Colorado Marijuana Laws, Workers' Compensation, Wrongful Discharge and Unemployment Compensation. The unifying theme of this presentation is that federal drug laws conflict with state laws regarding marijuana, resulting in often Draconian measures that penalize marijuana users in the workplace - whether their usage is on site or off.
Presented by Gregory Cairns, Esq., Cairns & Associates, P.C., Denver, CO
BREAKOUT SESSIONS 10 - 13. PLEASE CHOOSE A SESSION TO ATTEND:
Dispute Resolution and Unbundled/Limited Scope Legal Representation - Challenges and Opportunities for ADR Practitioners
Limited scope or "unbundled" legal representation is an increasingly prevalent practice model in Colorado. The approach provides a means for litigants who may not otherwise desire or be able to afford traditional representation to benefit from legal advice and protections. Limited scope attorney involvement limits conflict and cost to parties while also presenting opportunities and challenges for ADR practitioners. The presentation will offer an overview of the unbundled model, ethical considerations, and dispute resolution techniques when unbundled counsel is involved.
Presented by Alexandra Smits, Esq., Attorney/Mediator, Harrington Brewster & Clein, PC, and the Denver Center for Mediation and Collaborative Law, Denver, CO, Rebecca Baer, Esq., Attorney/Mediator, David Littman, PC, Denver, CO and Honorable Adam Espinosa, Denver County Court, Denver, CO
Inch by Inch: Cultivating Mediation Skills One Weed at a Time
Are you grieving because winter is coming and homegrown tomatoes are gone? This light-hearted but highly substantive, interactive session for mediators and counsel brings back summer by viewing mediation skills through a horticultural lens, with a focus on pre-mediation preparation, development of consensus, and concluding mediation through agreement or otherwise.
Presented by Julie Williamson, Esq., Mediator and Arbitrator, AB Conflict Resolution Services, Denver, CO
We All Have It - How to Recognize and Interrupt Unconscious Bias
Despite our best intentions, we all have it - unconscious, unintentional biases, which leak into, and can have a profound impact on, our decision-making. The key is to learn to recognize our unconscious (and conscious) biases and develop strategies to interrupt them in the ADR process to ensure that the process is fair and impartial.
Presented by
Kathleen Nalty
, President, Kathleen Nalty Consulting LLC, Denver, CO, and
Marsha Piccone, Esq.
, Rollin Braswell Fisher LLC, Greenwood Village, CO
Tour Guide of Family Law Mediation … Moving Beyond the Controversies Surrounding a Divorce
Parties in a family law mediation present themselves as a foreign country speaking a different language, navigating a range of experiences and emotions. All involved parties can end up feeling like they are living in a completely different culture. A skilled and experienced tour guide assists in not only guiding the parties and attorneys through their travels, but can be a powerful tool in helping parties transform their lives in the process. This session will explore ways to temper emotions and create an environment conducive to resolving some of the most difficult issues mediators face from start to finish. This presentation will include tactics to employ, such as the caucus, when dealing with even the most controversial parties.
Presented by
Kelly Rider Goodwin, Esq.,
Owner and Managing Partner, Rider Goodwin Law Offices, LLC, Denver, CO,
Robyn McDonald, Esq.,
McDonald Mediation Group, LLC, Littleton, CO,
Ben Stetler, Esq., Ben Stetler PLLC, Denver, CO and
Diane Wozniak, Esq.,
Sherman & Howard LLP, Denver, CO
Adjourn to Cocktail Reception
Sponsored by The MEDIATION ASSOCIATION OF COLORADO
Location Information
Renaissance Hotel
3801 Quebec Street
Denver, CO 80207
Get directions
Registration Fees
| | |
| --- | --- |
| Nonprofit (Mediation program volunteer or staff) | $229.00 |
| Member (CBA, Government Employee) | $259.00 |
| Judicial Employee | $229.00 |
| Student | $169.00 |
| CLEACCESSPASS---ELITE Pass Holder | $99.00 |
| Other | $279.00 |
| CBA DR Section, ODR, MAC Members | $229.00 |
| CLEACCESSPASS---BASIC Pass Holder | $129.00 |
| New Lawyer Edge Partner | $129.50 |
General Credits: 7.00
Ethics Credits: 3.00