10th Annual Colorado ADR Conference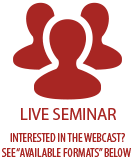 Novermber 2016
10th Annual Colorado ADR Conference
Live Only!
Program Description:
Colorado's 10th Annual ADR Conference presents a wide array of topics and techniques for the ADR practitioner. Come to challenge your thinking, expand and improve your skills and connect with colleagues.
2016 ADR Sponsors with Links
Conference Co-Sponsors:
- The Mediation Association of Colorado
- Office of Dispute Resolution, Colorado Judicial Branch
- Colorado Bar Association Alternative Dispute Resolution Section
Gold:
Silver:
Conference support and administration provided by CBA-CLE
Sponsorship opportunities are still available!
For more information, please contact
Melissa Higham
at
mhigham@cobar.org
Registration & Continental Breakfast
Housekeeping Announcements
Welcome & Opening Remarks
REUNITING AMERICA: How We Can Bridge the Partisan Divide
How can the skills of dispute resolution be applied to the political dysfunction that has gripped America? Mark Gerzon will present some practical steps about how conflict resolution professionals, as well as ordinary citizens, can help heal our deeply wounded civic culture and renew democracy.
Mark Gerzon is the author of The Reunited States of America: How We Can Bridge the Partisan Divide, as well as Leading Through Conflict: How Successful Leaders Transform Differences into Opportunities. As president of Mediators Foundation, he has conducted leadership trainings for organizations ranging from the US Congress and the United Nations to state and local organizations.
9:45 - 11:00am (1.5 Ethics Credits)
Ethical dilemmas often arise during mediation. A skilled practitioner must recognize such issues promptly and be prepared to assess the situation and respond appropriately. A panel of seasoned professionals will address several ethical scenarios. Audience participation is encouraged.
Presented by The Ethics Committee of the Mediation Association of Colorado:
Nan Waller Burnett, MA, Senior Partner, Dispute Resolution Professionals, LLC, Denver, CO
Samuel Gordon, Esq., JAMS, Denver, CO
Terri Harrington, Esq., Harrington Brewster & Clein, P.C., Denver Center for Mediation and Collaborative Divorce, Denver, CO
Michael J. Maday, MSW, Resolution Resources of Colorado, Colorado Springs, CO
BREAKOUT SESSIONS 1-5. PLEASE CHOOSE A SESSION TO ATTEND:
Using the Caucus to Unlock Parties' Wisdom and Promote Intelligent Solutions
The question of whether to use "caucuses", in mediation has been widely debated for many years. Does it come down to the mediator's style? Is it necessary to guarantee a confidential process? Is it necessary to ensure a power balance in mediation? Is it crucial to reaching a mutual settlement? Should it be viewed as a standard step in the process or should it be viewed as a tool for a mediator to use in specific situations for a specific purpose? Judy will offer her responses to these and other questions. She will demonstrate a caucus and the attendees will participate in the demonstration and then critique it. They will also practice the approaches and techniques they learned from Judy and from one another.
Presented by Judy Mares-Dixon, M.A., Mares-Dixon & Associates, Boulder, CO
Mediating Marijuana Disputes: Achieving Positive Outcomes and Staying Out of Trouble
As the marijuana industry has matured it has done through growing pains characterized by legal uncertainty and hotly-contested disputes along business partners with differing goals and expectations. This presentation offers practical advice to mediators and attorneys for achieving workable settlements and avoiding traps for the unwary. The scope of mediators' and attorneys' ethical responsibilities in settling cases involving an industry that operates in a legal gray area due to conflicts between state and federal law will also be discussed.
Presented by C. Adam Foster, Esq., Hoban & Feola, LLC, Denver, CO, Cathy A. Klein, RN, MSN, MSEd, APN, JD, Conflict Resolution Services, Denver, CO, and Anthony van Westrum, Esq., Anthony van Westrum LLC, Golden, CO
One Community's Approach in Addressing Conflict: Utilizing Restorative Justice, Community Mediation, Facilitation and Conflict Management Training
This session will highlight how Estes Valley Restorative Justice Partnership has responded to community needs beyond offering traditional restorative justice programming and how this response has impacted the community. This response has involved developing and implementing preventative programs that include: community mediation, facilitation, conflict management education and work in schools.
Presented by James F. Carr, JD, James Carr Attorney Mediator, Estes Park, CO, and Melissa Westover, MA, LPC, Executive Director, Estes Valley Restorative Justice Partnership, Estes Park, CO
Expanding the Mediators' Toolkit: 3 Tools that Increase Neural Resilience and Optimize Cognitive Performance
This interactive training identifies how vicarious trauma sabotages emotional and physical resiliency and effectiveness during and after high conflict mediations. Participants will learn how to use 3 simple tools to reduce the impact of vicarious trauma and increase neural/cognitive power and emotional "resiliency" in mediation and other areas of life.
Presented by Michelle Sylvain, JD, MBA, Sylvain Dubois, LLC, Eagle, CO
Oops, Your Implicit Bias is Showing: How Implicit Bias Impacts Decision Making
While explicit bias in the justice system is unlikely to explain, in total, the national over-representation of historically disadvantaged groups and corresponding negative outcomes, implicit bias offers a more prevalent and complex explanation. This program will explore the neuroscience of decision making and how unconscious or implicit bias is intimately integrated into our daily decision making. While the national trends are a result of compounding social and institutional issues, the courts and those working within the judicial system, in particular, have an obligation to ensure their decision making is free from blind spots.
Presented by Brenidy Rice, State Problem Solving Court Coordinator, Colorado Judicial Department, Denver, CO
Networking Lunch – Ticketed Event (Please indicate on the registration form if you plan to attend the luncheon)
BREAKOUT SESSIONS 6-10. PLEASE CHOOSE A SESSION TO ATTEND:
Applying Motivational Interviewing Skills To Facilitate Alternative Dispute Resolution
Motivational Interviewing (MI) is an evidence-based, collaborative communication style that enhances motivation and commitment to change. Learn MI strategies for strengthening clients' sense of self-efficacy and encouraging more engaged participation in the ADR process. MI skills can also help mitigate any discord, resistance, or defensiveness that arise during negotiations.
Presented by Karen Alonge, Karen Alonge LLC, Lafayette, CO
Coaching Through the Chaos: Getting to Agreements in Divorce
With 60 – 70 percent of parties electing to divorce without legal representation, mediation provides an affordable and effective alternative. Yet sometimes negotiations become blocked for reasons that are difficult for the mediator to resolve without jeopardizing their neutrality. Join us to discover how a divorce coach can be a powerful ally.
Presented by Mandy Walker, Divorce Coach/Mediator, Niwot, CO, and Susan Vanderborgh, Esq., Golden, CO
Agreement Writing for Mediators
Mediators are often required to prepare agreements, memoranda, outlines, and other written documents. The purpose of this workshop is for participants to develop a further appreciation for the importance of a well-drafted document, learn how to organize and conceptualize written agreements, appreciate the importance of accurate word choice, and briefly practice essential drafting skills.
Presented by Robin N. Amadei, Common Ground Mediation and Coaching LLC, Lafayette, CO
Mediation Best Practices for Judges
Help draft a "Guide for Judicial Best Practices in Colorado Court Ordered Mediation". This program was just presented to judicial officers at the Colorado Judicial Conference. Panelists will summarize their prior presentation, and will present a summary of the audience discussion and written feedback. Topics include:
• Selection of appropriate cases for mediation
• Selection of appropriate mediator; criteria, style, qualifications and process
• Timing of order, commencement, and completion of mediation
• Selection of issues to be mediated
• Mediator's report to the court, useful information
Presented by Lynn J. Karowsky, Chair, CJI ADR Subcommittee, Denver, CO, Honorable Todd Jay Plewe, 22nd Judicial District, Cortez, CO, Fonda Hamilton, Castle Rock, CO, J. Gregory Whitehair, Esq., IP Resolution CO., LLC, Denver, CO, Diana L. Powell, Esq., Gutterman, Griffiths, PC, Lone Tree, CO, and Sara Johnson, President, Mediation Association of Colorado, Denver, CO
Bridging Language and Cultural Differences in Mediation
Differences in language and culture always impact the mediation process. This presentation goes beyond understanding the complexities of communicating authentically and conveying meaning under the challenge of different cultural experiences, perspectives and legal circumstances. Power point, interactive role-play and panel discussion are used to illustrate the concepts.
Presented by Rogelio Hernández-Flores, Founder/President, Beyond-Borders, Highlands Ranch, CO
BREAKOUT SESSIONS 11 - 15. PLEASE CHOOSE A SESSION TO ATTEND:
Navigating the Neutral Zone: Where Change Management and Mediation Meet
Theories of change provide a strong framework for working with mediating parties. The phases of transition through change impact our outlook and drive our behavior. Learning to identify these stages can improve mediation outcomes, providing mediators and parties with a deeper understanding of their experience and the possibilities for resolution.
Presented by Caroline McKinnon, Esq., McKinnon Change Management, Denver, CO
Getting to Yes in Family Law Mediation
With emotional parties and underprepared attorneys, it's often difficult to reach resolution in family law mediations. When parties reach agreement, MOUs often leave open the door to future litigation. This presentation addresses practices mediators can implement to make family law mediations more productive and to help parties avoid future litigation.
Presented by Rajesh K. Kukreja, Esq., Sherman & Howard L.L.C., Denver, CO, and Elizabeth Henson, Esq., Elizabeth Henson Attorney Mediator P.C., Greenwood Village, CO
Forgiveness: Barrier and Bridges
Exploring the role of forgiveness in mediation settings enables practitioners to assist others, especially where conflicts involve difficult relationship issues. The workshop will identify common barriers to forgiveness and discuss how 3rd parties may facilitate overcoming them: removing distractions caused by emotional harm, eliminating blocks to cooperation, and building trust.
Presented by Myra Warren Isenhart, PhD, Organizational Communication, Inc., Littleton, CO, and Scott Poland, PhD, Mediator and Mediation Services, Fort Collins, CO
Everything You Ever Wanted to Know About Colorado Law on Mediation
What is the statutory and case law framework for Colorado mediations? What are the relevant court rules? When do you really have an enforceable mediation settlement? What parts of mediation are confidential? What are some ethical issues and pitfalls?
Presented by Steven C. Choquette, Attorney-Mediator, Choquette & Hart LLP, Denver, CO
The ONE Skill that Binds Them All: Listening
We all know that listening is an essential skill for a counselor, mediator, or in any social context. But if we are honest, how successful are we in actually listening? In this presentation we will refresh our understanding of listening skills and dive deeply into putting this knowledge into practice.
James Mills, Esq., Movementry, LLC, Aurora, CO
Location Information
Renaissance Hotel
3801 Quebec Street
Denver, CO 80207
Get directions
Registration Fees
| | |
| --- | --- |
| Nonprofit (Mediation program volunteer or staff) | $229.00 |
| Member (CBA, Government Employee) | $249.00 |
| Judicial Employee | $229.00 |
| Student | $169.00 |
| CLEACCESSPASS---ELITE Pass Holder | $99.00 |
| Other | $269.00 |
| CBA DR Section, ODR, MAC Members | $229.00 |
| New Lawyer Edge Partner | $124.50 |
General Credits: 7.00
Ethics Credits: 1.50