Social Security Disability Law Update: 10th Circuit Meeting 2018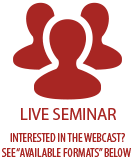 February 2018
Social Security Disability Law Update: 10th Circuit Meeting 2018
Program Description:
This program is dedicated to bringing you up to speed in Social Security matters and issues in the Tenth Circuit, and it will be the best way you can spend your day to enhance your skills and knowledge to best serve your clients' needs. It is also an excellent opportunity to network with your Tenth Circuit colleagues. We have gathered some of the leading experts and practitioners to bring you this outstanding information-packed day and to share with you their practical experience and expertise. This is a day devoted to streamlining your skills and polishing your practice. It is a program that you cannot afford to miss!
REGISTER TODAY!
CLE has reserved a block of rooms for guests of the 10th Circuit Spring Meeting at the Warwick Hotel, located at 1776 Grant Street in Denver, just one block from the meeting. The Classic King Room rate is $185 plus applicable taxes, and features complimentary Wi-Fi, waived Urban Retreat fee ($15), complimentary 24-hour fitness and business centers, complimentary cruiser bicycles, discounted overnight valet parking ($25, currently $37), and a variety of other amenities. When making your reservation, in order to receive the group room rate, please indicate that you are a guest of the 10th Circuit Meeting with the Colorado Bar Association. Reservations will be accepted by phone at (303)861-2000.
Reservations can be made by utilizing one of the following three methods:
1. Call the hotel directly at 303-861-2000 or toll free at 800-525-2888 for USA and Canada.
2. Requests may be emailed to res.denver@warwickhotels.com .
***When making reservations, guests must provide the company name and have a credit card ready to guarantee the reservation.
Additional Warwick offer:
Silver Winter Package:
- Overnight Accommodations
- Valet Parking each night
- $20 Gift Card* to Rocky Mountain Chocolate Factory in downtown Denver
- 2 tickets* for the Denver Zoo
- $50 Food & Beverage credit* to Dinner in Randolph's Restaurant
Starting at $185 per night, 2 night min stay / *one set of tickets, gift cards and credits per stay
Airport Transfer:
The Warwick Hotel provides transportation via Super Shuttle to/from the Denver International Airport at $25 per person, one way, for the shared-ride van. Arrivals scheduled by prior reservation. Taxi services are also available. Rate is approximately $55-$70 from Denver International Airport to the Warwick. Lyft and Uber are also transportation options.
Social Security Disability Law Update: 10th Circuit Meeting 2017
Credits: Submitted for 7 General CLE Credits (50 minute CLE Hour States)
Submitted for 6 General CLE Credits (60 minute CLE Hours States)
Program Agenda
February 23, 2018
Informal meet and greet 5-7pm (details to be provided)
February 24, 2018
9:00am
Welcoming Remarks and NOSSCR Update
Sarah J.W. Wilkonson, Esq., Webb & Wilkonson Law LLC, Denver, CO
9:05am
Unconventional, Dynamic and Unique Ways of Addressing and Confronting Vocational Expert Testimony
Presented by Martin Rauer, Vocational Expert, President of FasTrak Rehabilitation Inc., Colorado Springs, CO
10:00am
Networking Break
10:15am
Advice from Inside and Outside the OHO, Using Law Witness Statements to Support Your Case, How to Address Gaps in the Medical Record, How to Use POMS in Your Appeal, Exceptional Advice and Lessons on Best Practices
Presented by Honorable Nicholas J. LoBurgio, Former Regional Chief Administrative Law Judge, Office of Hearing Operations, Denver, CO
11:15am
Step One Social Security Anomalies, Proving the Severity of Undocumented Symptoms, How to Attain a Valuable Medical Source Statement — Best Practices
Presented by Steve Troutman, Troutman & Troutman, P.C., Tulsa, OK
12:00 Noon
Networking Lunch (Included in Your Registration Fee. Please RSVP on the registration form, or confirm via online registration.)
1:20pm
Expediting Payment, Avoiding Fee Errors and Persuasive Fee Petitions — Best Practices
Presented by Sasha Kurbegov, Esq., Regional Staff Attorney, Office of Hearing Operations, Denver, CO
2:30pm
Networking Break
2:45pm
10th Circuit Case Law Update
Presented by Gayle Troutman, Esq., Troutman & Troutman, P.C. Tulsa, OK
4:15 pm
Adjourn
Location Information
CLECI Large Classroom
1900 Grant Street, Suite 300
Denver, CO 80203
Get directions
Registration Fees
| | |
| --- | --- |
| Non Member | $289.00 |
| Member | $269.00 |
General Credits: 6.00
Ethics Credits: 0.00