First Money In: Considerations for Drafting Early-Stage Financing Documents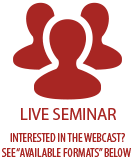 March 2018
2018 Business Document Drafting Series:
First Money In: Considerations for Drafting Early-Stage Financing Documents
Co-sponsored by the New Lawyers Subsection of the CBA Business Law Section,
and the Young Lawyers Divisions of the Colorado and Denver Bar Associations
Program Highlights
Who Should Attend:
- Lawyers in Your First Years of Practice
- Business Law Practitioners
- In-house Counsel
- Business Law Paralegals
- Anyone Who Wants Expert Guidance on Drafting Documents that Make Business Transactions Happen!
Program Description:
Back by Popular Demand - Our Business Document Drafting Series!
Registration is flexible. You can sign up for any of the programs individually or you can sign up for the entire or most of the series and save with our series package discount.
- Acquire Practical, Immediately Useful Drafting Skills
- Better Understand Agreements that You are Regularly Hired to Draft
- Receive the Expert Advice of Experienced Business Law and Writing Experts
- Add Useful Tools to Your Business Document Toolbox
Each program is 100 minutes in length, ensuring that you receive the important drafting training you want, while maximizing the use of your time. In addition, each program includes valuable written materials that you will refer to time and time again.
Don't just acquire CLE credits, acquire practical skills and knowledge you can immediately use in your practice - register for the Business Document Drafting Series today!
Agenda:
Registration begins at 7:30am
Program begins at 8:00am
Program ends at 9:40am
Program 2
Wednesday, March 28, 2018
First Money In: Considerations for Drafting Early-Stage Financing Documents
This program will introduce you to the most commonly-used documents in early-stage corporate financing transactions—including convertible promissory notes, simple agreements for future equity (SAFEs), and series seed preferred stock financings agreements. You will learn the similarities and differences between each type of agreement, and the principal legal and business considerations that influence which type of agreement to use in a particular situation. We will also cover the major practice points for drafting and reviewing such documents, and how the main provisions of each affect companies and investors.
Presented by Mystery Murphy, Esq., and Ben Carver, Esq., Cooley LLP, Broomfield, CO
Location Information
CLECI Large Classroom
1900 Grant Street, Suite 300
Denver, CO 80203
Get directions
Registration Fees
| | |
| --- | --- |
| Non Member | $99.00 |
| CBA Member | $89.00 |
| New Lawyer Edge Partner | $0.00 |
| CLE ELITE Pass Holder | $0.00 |
| CBA Business Law Section Member | $79.00 |
| CBA or DBA Young Lawyers Division member | $69.00 |
General Credits: 2.00
Ethics Credits: