Bankruptcy Case Law Spring Update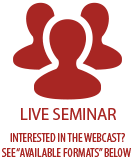 April 2018
Bankruptcy Case Law Update
Co-sponsored by the Bankruptcy Subsection of the CBA Business Law Section
Please join us for the Spring, 2018 Bankruptcy Case Law Update presented by the Honorable Kimberley H. Tyson, Kyler K. Burgi, Esq., and Leo M. Weiss, Esq., and hear the latest developments in the bankruptcy practice area. Learn what you need to know for your current bankruptcy cases and for your next case!
We are once again pleased to offer the Update live in our classroom and also via live Internet webcast, direct to your desktop!
Agenda:
Bankruptcy Case Law Update
Discussion includes recent bankruptcy cases of interest issued by the Supreme Court, the Tenth Circuit Court of Appeals, the Bankruptcy Appellate Panel for the Tenth Circuit, and District Courts and Bankruptcy Courts within the Tenth Circuit.
Adjourn to Networking Reception Sponsored by the CBA Business Law Section
Meet Your Presenters:
Honorable Kimberley H. Tyson, Judge, U.S. Bankruptcy Court—District of Colorado,
was appointed to the bankruptcy bench in May, 2017. Judge Tyson was previously a director of Ireland Stapleton Pryor & Pascoe, PC, and concentrated her practice in workouts, bankruptcy, and related commercial litigation. She represented secured creditors, creditors' committees, trustees, unsecured creditors and purchasers in complex bankruptcies. She also served on the Chapter 7 panel of trustees in Colorado by appointment of the United States Trustee. She earned her Juris Doctor from the University of Kansas School of Law, and in her early law career she clerked for Honorable Jerry G. Elliott of the Kansas Court of Appeals and later for Honorable John K. Pearson at the U.S. Bankruptcy Court for the District of Kansas.
Kyler K. Burgi, Esq., Davis Graham & Stubbs LLP,
focuses his practice primarily on complex commercial litigation, bankruptcy and creditors' rights, and toxic tort litigation. Before joining DGS, Mr. Burgi served as a law clerk to the Honorable Philip A. Brimmer of the U.S. District Court for the District of Colorado where he assisted in a wide variety of civil and criminal matters. He received his J.D. from the University of Denver Sturm College of Law. While in law school he competed nationally as a member of the Sturm College of Law's ABA-NTC National Trial Team, served as an editor of the Denver University Law Review, and interned for the U.S. Attorney's Office. Prior to law school, Mr. Burgi worked as a television news reporter. He serves on the associate board of directors of Big Brothers Big Sister of Colorado.
Leo M. Weiss, Esq., as Trial Attorney, 1988-2017, United States Trustee's Office
, Denver, presented numerous Continuing Legal Education programs for the Chapter 7 Panel Trustees and Bankruptcy Bar on a variety of topics in bankruptcy-related areas. Mr. Weiss has also been a frequent presenter for CBA-CLE. From 1998-2016 he served as a co-author of the Annual Survey of Law. Additionally, he is an attorney of record in approximately 60 published opinions plus numerous non-published opinions in bankruptcy-related areas in Colorado and the Tenth Circuit. He is admitted to practice before the U.S. Supreme Court as well as the 10th Circuit Court of Appeals and the U.S. District Court for the District of Colorado. In 1985, he received a J.D. from the University of Denver, where he was on the staff of the Administrative Law Journal. As a research assistant to Professor Robert A. Hardaway, he helped author portions of the Colorado Civil Rules Annoted volumes of West's Colorado Methods of Practice series. Mr. Weiss was also a research assistant to Professor Sandra Blackstone in the area of natural resources law.
Bankruptcy Subsection Co- Chairs:
Matthew Faga, Esq.
Markus Williams Young & Zimmermann LLC
Denver, CO
Moye White LLP
Denver, CO
Location Information
CLECI Large Classroom
1900 Grant Street, Suite 300
Denver, CO 80203
Get directions
Registration Fees
| | |
| --- | --- |
| Non Member Tuition | $20.00 |
| CBA Member Tuition | $20.00 |
| CLEACCESSPASS--ELITE Pass Holder | $0.00 |
| New Lawyer Edge Partner | $0.00 |
| CBA Bankruptcy Subsection Member; No Fee, but Registration is Required | $0.00 |
| CBA Business Law Section Member; No Fee, but Registration is Required | $0.00 |
General Credits: 2.00
Ethics Credits: 0.00
Sponsor Information
After attending this Update, you will better understand:
Current Bankruptcy Law Issues Involved in Your Bankruptcy Cases

Recent Court Decisions, Rule Changes and More

Bankruptcy Law Recent Developments